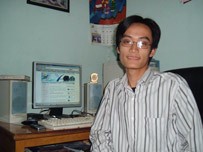 Pham Trung Dung
Marking his 20th birthday by a national work - designing the official website for APEC Viet Nam 2006 (www.apec2006.vn), the young slim man with a shy smile Pham Trung Dung, head of the IT department, OTC Software and Communication Company.
Dung appears more mature and modest than other peers. His passion for web designing was realized when he was only 15 with a game website.

One year later, he made his own money by designing websites for an electronics shop and some high schools in Ha Noi.

Viewres of the official website of APEC 2006 will not be bewildered by lots of images and information, but will be impressed with the background colors, orange and bronze, and photos' slide show about Viet Nam.

Dung had worked hard on the APEC information portal months before his company was assigned to be APEC website designer.

"Realizing that designing the website for APEC 2006 is a special work, our team worked so hard, sometimes until 4-5a.m", he recalled.

Besides the APEC website, he has built hundreds of others; however, he says he is far from successful. "IT work requires much passion. Even when you're not gifted, passion and patience can help. It's my passion for IT that drives me willingly to study and work even 16-20 hours a day", he said.

Dung cherishes a desire to set up a website supplying online services such as advertising, mobile ringtones and images. "Many utilities from websites have not been exploited in Viet Nam. I hope I could introduce my product late this year", he said.