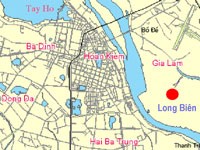 (Designed by: T.C.)
A detailed project on constructing and upgrading routes in Long Bien District, the northern gateway leading to Ha Noi, has been officially announced.
Accordingly, in addition to the current upgraded national roads, the new Ha Noi – Hai Phong freeway passing through Long Bien District will be built. The new freeway is planed to be in the south of the 5th National road.
At the same time, the Ha Noi – Hung Yen inter-provincial road will also be constructed. Belt Line III (from Thanh Tri Bridge to Phu Dong Bridge) will be a city freeway with six high-speed lanes and two side roads for local traffic.
Belt Line II (from Vinh Tuy Bridge to Nguyen Van Linh Street) will be widened to 57.5 – 60 meters. The inter-area way in the east of Viet Hung new urban area connecting the Ngo Gia Tu Street to Belt Line III will be expanded to 48 meters wide.
According to the project, the Thach Ban, Ngoc Thuy, Thuong Thanh streets will be 40 meters wide. The route from the Duong Bridge will also connect to the current road on the Hong River's Dyke.