New bus, train and flight routes provide additional transportation options.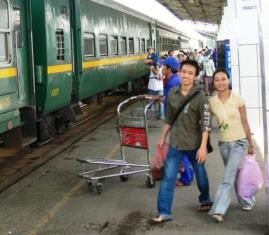 During Hue Festival, tourists can travel between Ha Noi to Hue by train
* Tien Giang Transport Corporation has opened a 56km-bus route from My Tho City to My Loi ferry in Go Cong Dong district Saturday. There will be 60 to 70 bus trips a day.
Buses will depart from 5 a.m. to 7 p.m. Each trip lasts from 80 to 90 minutes.
* Jetstar Pacific began operation in Ha Noi on Friday. This company is a joint venture between the Jetstar Group and Viet Nam Pacific Airline. In August Jetstar Pacific will get a A320 Airbus open routes between Ha Noi and Ha Nang, Hue, and Nha Trang.
In late 2008, Jetstar Pacific will launch international flight routes to Thailand, Cambodia, Singapore and Kuala Lumpur in Malaysia.
* Ha Noi Train Company has added trains HN1 and HN2, traveling between Ha Noi and Hue, to meet demand during the Hue Festival and other summer festivals.
NH1 departs Ha Noi at 7:20 p.m. and arrives in Hue at 9:10 a.m. the next day while HN2 departs in Hue at 2:20 p.m. and arrives in Ha Noi at 5:20 a.m. the next day. Tickets cost from VND317,000 to VND420,000.