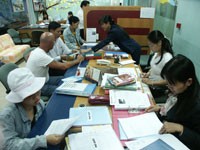 Fiditourist office
It is easy to get visa from a Vietnamese travel agency. The necessary information to the travel agency includes:
Full name

Birthday and place of birth

Nationality

Job

number of your passport

Entry and exit dates

Country you plan to receive your entry visa from the Vietnamese embassies or consulates
Vietnamese overseas are required to provide more information:
Year and reason to leave Vietnam
Leave Vietnam by means
Full names and addresses of relations in Vietnam
Visa exemption:
- Not more than 30 days: for citizens of Thailand, Philippines, Malaysia, Singapore, Indonesia and Laos.
- Not more than 15 days: for citizens of Japan and South Korea, Sweden, Norway, Denmark, Finland.
(Vietnamese diplomatic and official passport holders are exempted from visa requirements to enter Japan).
- French citizens holding valid diplomatic passports are exempt from visa requirements when visiting Vietnam and are allowed to stay for up 3 months at one time or on several visits within six months since their first immigration dates. Vietnamese citizens holding valid diplomatic passports also enjoy similar privileges.
- Citizens of Chile and Vietnam holding valid diplomatic or official passports from one of the two countries are exempt from needing entry, exit and transit visas in the other's territory and are allowed to stay for up 60 days on each visit