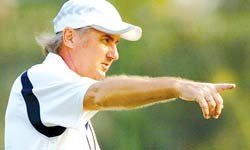 Coach A.Riedl
On April 11, 20 players short listed for VTV-T&T 2006 Cup turned up for training at the National Sports Centre No.1 in Ha Noi. Two Danang players were absent because they - Manh Dung and Hong Minh - were playing for their club in an Asian Champions League match in South Korea. They are expected to join the national squad on April, 14.
The training session kicked off with a short meeting, in which coach A.Riedl highlighted the current circumstances: short time and heavy tasks. He also urged players to show strong sense of responsibility and professionalism.
Shortly afterward, a surprise 60 minute work-out was conducted, with the participation of 17 players, including Tai Em and Van Thanh who had earlier sustained injuries. Truong Giang was out for injury, Minh Duc and Duy Hoang sick.

Despite having to train on the first day, all players were pleased with the first exercises.
The first group, including footballers playing for their clubs in all 90 minutes at the latest round in the Vietnamese premier league, took the warm up and short passing of the ball. The second group practiced passing the ball around, attacking from two flanks and crossing the ball into the penalty area for strikers to score. The session concluded with a few lapses of 100m sprinting combined with quick passing of the ball with the coaches.

At the end of the session, Coach A.Riedl had a few words of praise for the attitude players showed in training and wished his pupils to keep it up.
Noteworthy was the air of merriment among the players, who showed their readiness to have a fresh start and put all the sad experiences of the U23 SEA Games truly behind.
Coach A.Riedl was disappointed at the slow recovery of his forward Tran Truong Giang, who had suffered thigh muscle injury. He was chiefly concerned that there would not be enough time to call up a replacement for Truong Giang if he does not fully recover soon.
In the morning of April 13, the team will continue with their training. After the session, there will be a briefing in which players will be informed of the latest regulations regarding the national team, issued by the National Sports Committee. The coaching board will consult coach A.Riedl on the option of whether to nominate or to vote for the new captain of the team.
In preparation for the Spring Cup, Viet Nam will not be playing any friendly matches, and instead, there will be two internal games on April 12 and April 14.