Vietnamese bike racer Nguyen Thi That excellently bagged one more silver medal for Vietnam in the women's long road racing at the 17th Asian Games on September 29.

Nguyen Thi That became the first Vietnamese bike racer winning the sliver medal in Asian long road racing.

23 international racers participated in this category including two Vietnamese athletes Nguyen Thi That and Nguyen Phan Ngoc Trang.

In the important period of the race, athlete Nguyen Thi That speeded up and beated former Taiwanese championship Hsiao Mei Yu to win the silver medal.

The second Vietnamese racer Nguyen Phan Ngoc Trang was ranked the 15th position.

In the men's road long bike racing, athlete Le Van Duan and Mai Nguyen Hung ranked the 12th and the 20th position.

In the related news, on the same day, athlete Bui Thi Thu Thao unexpectedly bagged one silver medal in long jump content. Thao got a success at 6 meters 44 after the sixth jump. The gold medal belonged to Indonesian athlete Maria Natalia Londa with 6 meters 55.

Up to now, the Vietnam sports delegation won one gold, nine silver and 20 bronze medals and was ranked the 18th position.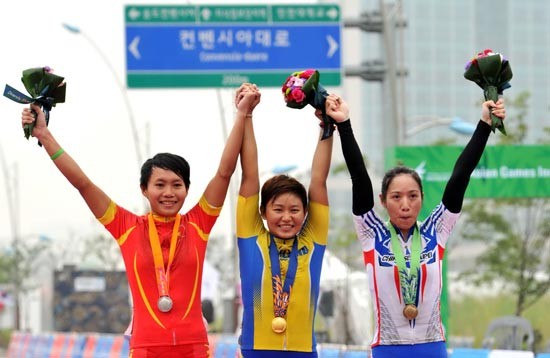 Bike racer Nguyen Thi That (L) won one more silver medal for Vietnam sports delegation (Photo:SGGP)