JOHANNESBURG (AFP) - Africa's first football World Cup kicked off in Johannesburg on Friday as a grief-stricken Nelson Mandela inspired the hosts to a 1-1 draw with Mexico in front of a raucous and emotional home crowd.
South Africa's Bafana Bafana, a lowly 83 in world football, nearly grabbed a stunning winner as they hit the post in the closing minutes but should still be more than happy with a draw against the 17th ranked Mexicans.
Siphiwe Tshabalala sent most of the 85,000 supporters packed into Soccer City into ecstasy as he opened the scoring with a stunning strike in the 55th minute before Mexico's Rafael Marquez equalised 24 minutes later.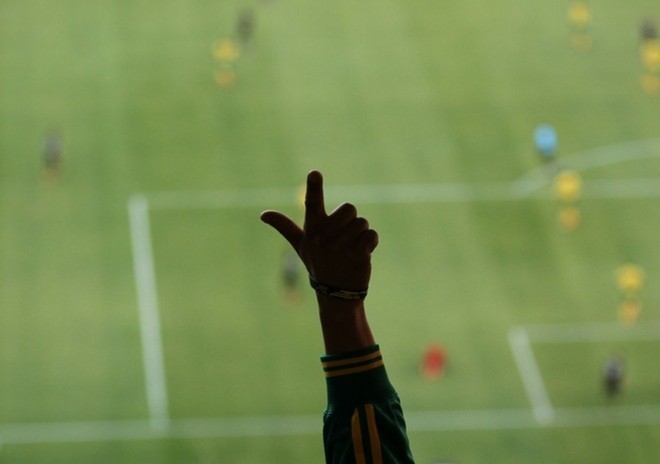 A fan cheers during the Group A first round 2010 World Cup football match South Africa and Mexico on June 11, 2010. AFP photo
Bafana's Katlego Mphela hit the post in the 90th minute as the home team finished much the stronger.
The match followed emotional scenes at the opening ceremony with fans weeping during a fly-pass over the stadium before 1,500 performers piled on to the pitch for a dance routine which saw them create a map of the continent.
After brief turns from some of the biggest names in African music, it was left to South African President Jacob Zuma to declare the tournament open and the Uzbek referee Rashan Irmatov to blow the starting whistle.
"The time for Africa has come. It has arrived," Zuma told the supporters.
The crowds had been hoping that Mandela, South Africa's first black president, would be present to cheer on the Bafana Bafana national team.
But he was instead nursing his grief after the death of his 13-year-old great granddaughter Zenani Mandela.
In a statement, Mandela's foundation said that he felt it inappropriate to attend a football match at a time of family grief but added that "Madiba will be there with you in spirit today".
The youngster was killed on the way back from an eve of tournament concert, in a car crash which police say was caused by a drunk driver.
The 91-year-old Mandela, still the nation's moral beacon more than a decade after he stood down, did appear on a giant screen with his words interspersed in a song that implored fans to "overcome all adversity".
Blasts from ear-splitting vuvuzela horns drowned out the chants of the Mexican fans as the match kicked off.
Tens of thousands of supporters unable to grab tickets watched in special fan parks where the first goal was greeted with scenes of euphoria. The equaliser was met with silence.
"I was impressed by the level of performance, but still wanted a win," said Peter Paulse from Johannesburg as he trooped away from the ground.
"It was so beautiful to be here. We took a lot of pictures—the kind of pictures that you need to frame and say, 'I was there,'" said Mina Shembe, a 31-year-old woman from Johannesburg.
The ground was far from full for the opening ceremony as park and ride buses struggled through traffic jams and train services suffered delays.
Ever since it was awarded the tournament six years ago, South Africa has had to fend off accusations that its poor infrastructure and high crime rate meant it could not stage an event of such magnitude.
The hosts hope that a successful tournament with world renowned names such as Argentina's Lionel Messi, Portugal's Cristiano Ronaldo and England's Wayne Rooney will overturn perceptions of Africa as the hopeless continent—a place regarded by many as synonymous with war, famine and AIDS.
"The World Cup must make the world see the beautiful landscape, humanity, progress and vibrant spirit that is in this continent," Zuma told visiting heads of state.
"They will see that this continent is not about wars and conflict. It is a continent of peoples who love peace, harmony and sustainable development."
All the stadiums and World Cup infrastructure projects have been completed on time although crime is still a worry. Journalists have been robbed at gunpoint and thieves have even stolen cash from the rooms of the Greek team.
Local organising chief Danny Jordaan said the kick-off had set the tone for the rest of the tournament and given him confidence organisation-wise.
"Today we have established a template for every city and every town across South Africa to celebrate this World Cup," he said.
The second of the tournament's 64 matches between 1998 champions France and Uruguay got underway in Cape Town at 1830 GMT.