ROME, April 12, 2010 (AFP) - AC Milan vice-president Adriano Galliani said on Monday that Italy will lose a Champions League spot to Germany as a direct result of the infamous 2006 Calciopoli match-fixing scandal.
"One of the effects of the Calciopoli is to have reverberations on the UEFA index for Italy and from now on it's practically certain that Germany will overtake us," said Galliani.
"We have less than a 0.5-point avantage on Germany (at the beginning of the season), and it's now certain that from 2012 we're going to lose a Champions League team and even maybe in 2011."
The UEFA index is calculated on the performance of clubs in each country in European competitions during the past five seasons and determines the number of teams each country can enter for the Champions League and Europa League.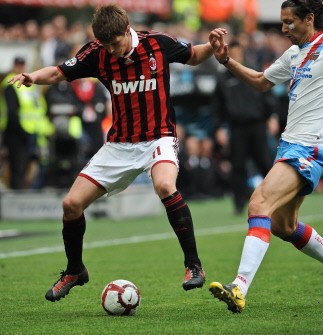 AC Milan's Dutch forward Klaas-Jan Huntelaar controls the ball against Catania's defender Christian Terlizzi during their Italian Serie A football match on April 11, 2010 at Milan's San Siro comunal stadium. AFP photo
The top three in the current index -- England, Spain and Italy -- are allowed four teams in the money-spinning Champions League.
Galliani said that the Calciopoli scandal resulted in the disappearance of some of the strongest teams in Italy, such as Juventus, who were relegated, and their replacement by teams without the same ambitions.
"With all the respect that I have for Chievo it is obvious that they couldn't have the same objectives as Juve," said Galliani.
"Germany are overtaking us for two reasons -- one is the Calciopoli, the other is the 2006 World Cup (in Germany), which allowed new stadiums to be built. That had a positive effect with new players and more competitive teams."
He added: "If France win the right to host Euro 2016 (for which Italy are also bidding) we will also be overtaken by them."
Several other teams were punished for trying to rig matches in the Calciopoli scandal after a number of telephone conversations between club, league and refereeing officials were intercepted and published.
Juventus were relegated to Serie B and stripped of their last two titles while AC Milan, Lazio, Fiorentina and Reggina were all handed point penalties for the next season.