The Asian Football Confederation (AFC) has changed the playoff round of the Asian qualifiers for the 2012 London Olympics from Malaysia to Vietnam, according to the official AFC website.
The website says that Malaysia was originally chosen but renovations to the proposed stadium forced the football governing body to find a new host country. Now, the round is set for March 25-31 in Vietnam.
After the AFC decision came out, the Vietnam Football Federation has not announced whether My Dinh National Stadium in Hanoi or Thong Nhat Stadium in Ho Chi Minh City is the competition destination.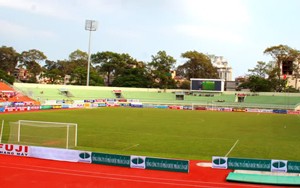 File photo shows Thong Nhat Stadium in Ho Chi Minh City (Photo: Tuong Thuy)
In the playoff round, the three competing teams are the runners up from the three third round groups. They will play in a round-robin format. The playoff winners will take on Senegal, which finished fourth in the CAF U23 Championship.
In Asia, Oman are just after Group A leader South Korea by three points and will be away to Qatar in the penultimate match on February 5. Oman will host South Korea on February 22.
Meanwhile, Uzbekistan are leading Group B with five points. Iraq have four points, Australia three points, and UAE 2 points.
Japan stay firmly on top of Group C with 9 points, followed by Syria with six points, Bahrain third with three points. Malaysia are at the bottom after three losses in all.