The Asean Football Federation (AFF) announced Tuesday that both final matches in Group B of the ASEAN Cup will be played at the main competition venue of the Surakul Stadium in Phuket.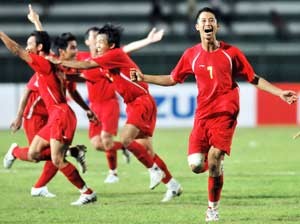 Vietnamese players celebrate their 3-2 win over Malaysia at Surakul Stadium on Dec. 8. The victory revived their hope for the semifinals after Thailand beat them 2-0 on Dec. 6 (Photo: SGGP)

Earlier, the Football Association of Malaysia had rejected to the AFF Cup organizing committee's decision that Malaysia would play hosts Thailand in Bangkok, not Phuket, on Wednesday at the same time with the Laos-Vietnam match at Surakul.
The Malaysian football body had put forward an appeal to the organizers of the regional tournament, saying they would not move to Bangkok at all.
After all, all four teams have agreed that the matches will be played one after the other instead of simultaneous kick-offs given the complexity of having a second viable venue.

The revised match schedule for Group B on Dec. 10 is Thailand vs Malaysia at 5 pm; Vietnam vs Laos at 7:30 pm.
Related article
Vietnam's hope revives in ASEAN Cup, Thais get 2nd win