The ASEAN Football Federation (AFF) Women's Football Championship 2015 kicked off in the Ho Chi Minh City's Thong Nhat Stadium on May 1 with the opener between Australia and Thailand.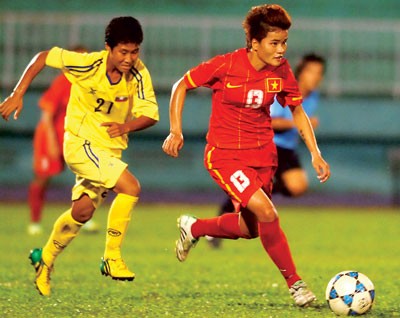 Vietnam (in the red uniform) ever won Myanmar at the final of the AFF Women's Championship 2012 (Photo: SGGP)
Also in Group A, Laos faced Indonesia the same day.
Group A comprises the four teams from Australia, who are the guest at the event, Indonesia, Laos and Thailand. Meanwhile, those from Malaysia, Myanmar, the Philippines, and host Vietnam compete in Group B. Teams compete under the round-robin format.
Vietnam is scheduled to face Myanmar on May 2 before competing against Malaysia on May 4 and the Philippines on May 6.
The event will run until May 10.
This year's tourney is said to be of importance since women's football is not included in competition categories at the 28th Southeast Asian Games (SEA Games 28) in Singapore this June.
Vietnam hosted the VFF Women's Football Championship for three times (in 2006, 2008, and 2012) since it was first held in 2006. It won the trophy in 2006 and 2012.-VNA