Afghanistan's Olympic football team has officially withdrawn from the 2008 Olympic qualifying match that had been scheduled for tomorrow in Viet Nam.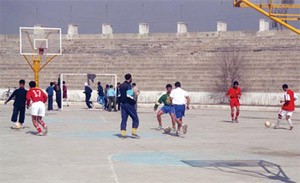 Playing football in Afghanistan.
News of the withdrawal, sent by the Afghanistan Football Federation (AFF), was received via fax by the Viet Nam Football Federation yesterday.
Bad weather, which prevented the team's flight to Viet Nam, was quoted as the reason behind the team's withdrawal, said Sarid Esmail, the AFF's General Secretary.
As a result, Viet Nam will move directly to the next round to meet the Omani Olympic team at Thien Tuong Stadium in Viet Nam's Nam Dinh province, on April 18.