Angola, Jan 28, 2010 (AFP) - The first set of Algerian supporters expected for an Africa Cup of Nations semi-final between their country and bitter regional rivals arrived here Thursday afternoon.

The 250 supporters flew into the Catumbela airstrip, on the outskirts of Benguela, to be welcomed by a big contingent of anti-riot policemen, who are expected to escort them safely to the match venue at the Ombaka Stadium.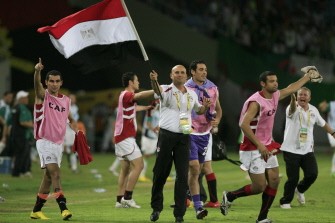 Egyptian players and team staff celebrate their victory over Algeria during their semi final match in the African Cup of Nations CAN2010 at the Ombaka stadium in Benguela on January 28, 2010. AFP PHOTO
The supporters, most of them dressed in their country's green and white colours, sang and chanted "Vive, Algerie! Vive, Algerie!!' on arrival.

Three other flights carrying more Algerian fans are expected in time for Thursday's late kick-off against defending champions Egypt.
Officials of the Confederation of African Footbal (CAF) expect at least 1,000 fans from Algeria for this matchup between two rival North African teams.

There are likely to be reduced number of fans after the Angola embassies in both Algeria and Egypt refused to give group visas and insisted on issuing only visas to individuals.

Unconfirmed reports said between 200 and 500 fans from Egypt have also arrived Luanda and are expected to make their way to Benguela, which is a 40- minute flight from the Angolan capital city.

CAF have taken extra measures to ensure the violence and controversies that marred two matches between the countries last November do not repeat themselves here.

The winner of this semi-final will clash with the winner of the other semi- final between Nigeria and Ghana in the final of this year's Nations Cup on Sunday.

Egypt are on course to a record seventh Nations Cup title and have compiled an unbeaten run of 17 games in the championship since January, 2004.