Cyclist Le Nguyen Thanh Nhan of the An Giang Plant Protection team was the fastest rider of the Ho Chi Minh City Television Cycling Race 2006 in Viet Nam and Laos, which wrapped up in Ho Chi Minh City on April 30.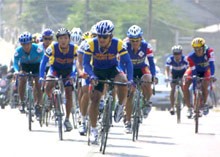 Cyclists approach the finish in Ho Chi Minh City on April 30 (Photo: HTV)
The race, Viet Nam's premier tournament, had 19 stages of 2,271 kilometers and took place from April 9 to 30, 2006. The champion, who comes from An Giang Province in the Mekong Delta, finished the tournament with 57 hours 55 minutes and 35 seconds.
Riders from the second to 10th position followed him neck and neck (see the under results).
Saigon Plant Protection-Dofilm won the teams' championship, followed by Saigon Agriculture-Pakse in the second place and Domesco Dong Thap, Eximbank in the third.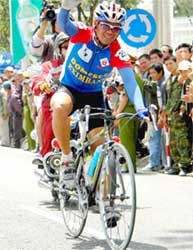 Mai Cong Hieu, the King of the Mountain (Photo: SGGP)
In the last stage, the 19th one, from Bao Loc to Ho Chi Minh City on the Reunification Day, Le Anh Tuan of the third team came first. His team mate Do Anh Tuan finished second and Truong Quoc Thang of Saigon Plant Protection-Dofilm was third.

The tournament was successful, Mr. Ma Dieu Cuong, deputy general director of Ho Chi Minh City Television (HTV) and chief of the organizing committee, said at the closing ceremony held on April 30.
"This is the 18th time of the tournament and the first time the race expanded outside Viet Nam. The success of the race will encourage the organizers to expand the tournament further to Cambodia and Thailand in 2008," he said.

Ten Vietnamese –An Giang Plant Protection, Saigon Plant Protection-Dofilm, Ben Tre, Can Tho, Domesco Dong Thap Eximbank, Ha Noi, Hue, Military Zone 7, Saigon Agriculture-Pakse, and Vinh Long –competed in the 18th race with 58 riders.
Vinh Long's Bui Minh Thuy, born in 1989 and also a cyclist of the Viet Nam team, earned the title the best junior cyclist.
Final Results

Individuals
Champion: Le Nguyen Thanh Nhan of An Giang Plant Protection
Cyclist winning more stages than any other: Do Tuan Anh of Domesco Dong Thap Eximbank
King of the mountain: Mai Cong Hieu of Domesco Dong Thap Eximbank
Best junior cyclist: Bui Minh Thuy of Vinh Long
Individual ranking
Le Nguyen Thanh Nhan (An Giang Plant Protection): 57 hours 55 minutes 35 seconds

Trinh Sang Dong (Domesco Dong Thap-Eximbank): 57h 56m 35s

Luu Quoc Quang (Saigon Agriculture-Pakse): 57h 57m 14s
Team ranking
Saigon Plant Protection-Dofilm: 173h 27m 42s

Saigon Agriculture-Pakse: 173h 37m 4s

Domesco Dong Thap Eximbank 173h 38m 51s