LONDON, April 18, 2010 (AFP) - Chelsea manager Carlo Ancelotti has vowed his side will avoid panic after their lead at the top of the English Premier League was cut to a solitary point.
Chelsea were beaten 2-1 away to Tottenham Hotspur on Saturday just hours after second-placed title rivals Manchester United, the reigning English champions, had won 1-0 against Manchester City in a hard-fought derby.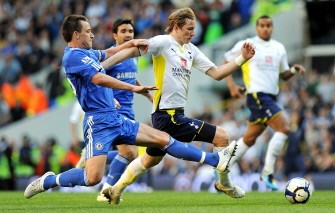 Chelsea's defender John Terry (L) tackles Tottenham's striker Roman Pavlyuchenko (R) which leads to Terry receiving his first yellow card during the English Premier League football match between Tottenham Hotspur and Chelsea at White Hart Lane in London on April 17, 2010. AFP PHOTO
Tottenham, who beat another of their fellow London sides contending for the title in arch-rivals Arsenal, also by a 2-1 margin, on Wednesday, fully deserved the three points that lifted them above City and into fourth position, the final place for entry into next season's Champions League qualifiers.
Ancelotti, who saw captain John Terry sent off for two bookable offences in the second half after he had conceded a penalty in the first, was convinced his players would still finish the season on top.
"We know what we have to do in the next three games," he said. "We must not have a panic now," the Italian insisted. "We are top of the list with only three games left so every team wants to be in our place.
"We have two at home and one difficult game away. We can be the best again. A one-point lead is not bad at this stage of the season, though to be sure we have to win all three games."
Chelsea's next fixture is at home to Stoke City on Sunday April 25 and Terry will be suspended for that particular Stamford Bridge encounter.
Ancelotti conceded that once Terry had been sent off in the 67th minute his side, already trailing to Jermain Defoe's penalty and a fine individual goal from Gareth Bale, did not have a chance of a comeback, although they did pull a goal back in the final minute through Frank Lampard.
"We had a problem with soft defence," he said. "We didn't put pressure on the ball.
"Tottenham attacked well at the start of the game. In the first 15 minutes we conceded a lot of crosses. This was not good.
"In the second half we tried to do better and we had some possibilities to score. Lampard scored at the end but when we lost Terry it was impossible to recover the game with 10 against 11."
Spurs manager Harry Redknapp, who must take his side to Manchester United next week and Manchester City next month, was delighted with a performance he rated as even better than the Arsenal success.
"They were well-deserved wins," he said. "We were the better team again, there was no doubt about that," added Redknapp, who a week ago had to pick Tottenham up from a morale-deflating FA Cup semi-final defeat by Portsmouth, his former club.
"We created all the chances and deserved the points. It's a difficult task beating Chelsea, not many teams manage to do that.
"The Arsenal result gave us the confidence that we could do it again but we have played well all year. We have won seven out of the last eight games, we have been in great form. We feel we can give anybody a game."
Tottenham are now two points ahead of City with three games remaining and Redknapp believed it was now unlikely either Liverpool or Aston Villa could overtake both of them.
"I still think it's going to be close," he said. "Villa and Liverpool have it all to do to catch us but certainly Man City have still got a great chance."
Redknapp had been in his office earlier in the day to watch veteran United midfielder Paul Scholes head a stoppage-time winner at Eastlands and declared the tightness of the title race was one of the reasons he loved football.
"It's going to be close," he said. "And that's the great thing about the game - you get days like today.
"The championship is wide open again. If United hadn't have got that last-minute goal and Chelsea had beaten us then it would have been all over."