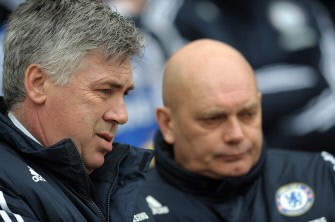 Chelsea manager Ancelotti (L)
LONDON, Jan 28, 2010 (AFP) - Carlo Ancelotti believes the return of Didier Drogba to the Chelsea squad this weekend will have a major impact on his side's title hopes.
Without Drogba, Ancelotti's team still scored 16 goals in four unbeaten games, culminating in the 3-0 victory over Birmingham that moved them back to the head of the Premier league table.
Two goals from Frank Lampard and one from Florent Malouda completed the win that put Chelsea one point ahead of Manchester United and two ahead of Arsenal having played a game less than their two main rivals.
The coming weekend will see the Blues travel to face Burnley where Ancelotti can once again call on the talents of Drogba who is now back from international duty at the Africa Cup of Nations.
And with United set to visit Arsenal 24 hours later, the Chelsea manager is confident his side could strengthen their position.
"We have one more point with a game in hand (on United) and two points more than Arsenal," he said. "That's important because, on Sunday United play Arsenal. Maybe we can improve our position on Saturday."
Without Drogba, Nicolas Anelka has led the Chelsea attack but Ancelotti has already shown this season he is happy to combine the two forwards.
And he sees no dilemma at having Drogba and fellow Ivorian Salomon Kalou available again.
"I think we need to have Drogba because he's a fantastic player and, with him, we can play the same football. Our philosophy and aims won't change: to play good football and win. We won't change. We'll maintain the same system.
"I said I need to have Drogba. I'm happy he'll be here with us tomorrow morning. He had a fantastic start to the season and will be very important for us in the future.
"We did very well in January. I want to thank my players who did a fantastic job without the African players. We could have had some problems without them, but we did very well."
Birmingham manager Alex McLeish must restore his side's confidence after their 15-match unbeaten run came to an abrupt end.
City have emerged as the surprise package of the Premier League season and while the manager is anxious to bring in reinforcements before the close of the transfer window, he insists he has no reason to criticise his players after a rare defeat.
He said: "I don't think anyone has won here this season and they've battered better teams than us. We had chances at 2-0 and it would have been interesting had we got the goal back, but we never took the opportunity.
"I'm not disappointed with the players at all. They deserve tremendous credit for the run they've been on, and they have the character to bounce back.
"Chelsea are one of the favourites in the Champions League, let alone the Premier League. We've kept the ball better than that and were wasteful in possession, but I'll forgive the players this one. There's no disgrace losing here."
McLeish, who is interested in Glasgow Rangers striker Kris Boyd, added: "I've given the board a couple of names, and I'm hoping they'll get something done for us. The strikers need help.
"Kevin Phillips has an injury. James McFadden can play through the middle -- that'd be his favourite position -- but we need to add something to help the others because we'll burn them out playing these guys every week of the season.
"I'm fearful they'll lose a little edge if we do, so an extra striker would spice things up a bit."