LONDON, April 10, 2011 (AFP) - Carlo Ancelotti admits Chelsea will have to improve quickly if they are to avoid a Champions League exit at Manchester United on Tuesday.
Ancelotti's side travel to Old Trafford for the quarter-final second leg trailing 1-0 after Wayne Rooney's strike in the first leg at Stamford Bridge.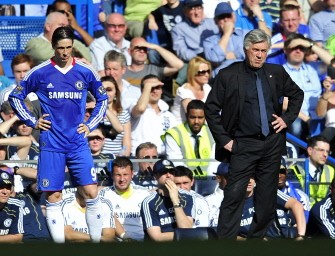 Chelsea's Spanish striker Fernando Torres (L) and Italian manager Carlo Ancelotti (R) look on during the English Premier League football match between Chelsea and Wigan Athletic April 9
Chelsea returned to winning ways with a narrow 1-0 home victory over bottom club Wigan on Saturday, but the Blues were once again well below their best.
Chelsea manager Ancelotti conceded a similar performance would spell disappointment against Sir Alex Ferguson's side.
"It was positive to win. It was not easy," Ancelotti said.
"The first was not good, the second half was better, good spirit and fighting, but in the end we won which is the most important thing.
"We have to play better on Tuesday. To win there we have to play at 100 percent."
Ancelotti and his players can point to their success in winning at Old Trafford in the latter stages of last season, a victory that proved decisive in their bid to pip United in the title race.
But last year Chelsea were in outstanding scoring form and Ancelotti acknowledges his side face more testing problems this time around.
"Obviously we have more difficulty compared to last season," he said. "Last season we scored a lot of goals and we have difficulties to score now.
"We created a lot of opportunities today when we were 1-0 up, we were not able to do this."
Florent Malouda scored the decisive goal against Wigan in the 67th minute but Fernando Torres again drew a blank during a 31-minuute substitute appearance.
Ancelotti refused to reveal whether the Spain striker would start against United, but he admitted he was willing Torres to score when he was twice denied by late saves from Wigan keeper Ali Al Habsi.
"Every one of of us wanted him to score," he said. "He had a lot of opportunities and he was unlucky because the goalkeeper made a fantastic save.
"We have to continue to confidence in him. He moved well and in 30 minutes he had three of four chances to score. Maybe he will score the most important goals of our season."
Alex and Yossi Banayoun also appeared from the bench and may play some part in the game at Old Trafford.
"It was good to take three points," he said. "It was good to play Alex and Benayoun. They are in good physical condition and the whole squad is fit and ready to play the next game.
"They can start a game without problem. I am not sure if they can play 90 minutes but they can start. I want to take the time to choose the best line-up.
"We have a strong squad, we are in balance and when we needed to win last year we won.
"We have to score one goal and we can take 90 minutes to score. We don't need to score in the first minute.
"The problem is to score one goal and if possible more. I don't think (Sir Alex) Ferguson is agreeable with this!"
Wigan manager Roberto Martinez believes his side was robbed of a point, claiming Torres impeded Al Habsi in the build-up to the goal but claims his side are playing well enough to survive.
"When you come here your goalkeeper has to be at his best and he showed the quality that he got," he said.
"We have a huge feeling frustration and the goal was a corner where Ali is impeded by Fernando Torres.
"It is clear as day he has his elbow in his face. I rate Howard Webb extremely highly and I am really disappointed he couldn't give us that call because it was the call of the game.
"We have our points tally and the next six games will be a real challenge. We have nothing to lose and everything to gain.
"It's a shame we haven't got 30 games to go because I think the team has finally clicked."