KNYSNA, June 20, 2010 (AFP) - Shamed France striker Nicolas Anelka could have remained with the World Cup squad had he taken up the offer of apologising to coach Raymond Domenech after his foul mouthed tirade of abuse at Domenech.
Domenech told TF1 on Sunday that it had not been a confrontation out of the oridnary but a normal reaction from a player under pressure.
Anelka had exploded when Domenech had told him to play in a different fashion in the second-half of the Group A match with Mexico - the coach then told him he was replacing him after his abusive reaction and Anelka was sent home in disgrace on Saturday after it was revealed in L'Equipe the nature of his remarks.
"It was not a confrontation," said 57-year-old Domenech, who is facing a sad end to his reign as France face likely elimination after Tuesday's final Group A matches.
"People cannot imagine the pressure. We are in a dressing-room, the coach says something to a player who is already under pressure, he can react angrily, and with strong words."
Domenech, whose popularity has plummeted since he unexpectedly guided them to the penalty shootout loss to Italy in the 2006 World Cup final, conceded that Anelka's reaction had not been appropriate.
"He did not react in the most suitable fashion, but it was just a guy sitting in his corner and muttering - that would not have mattered had it stayed there," said Domenech.
"What was important was that it made the front page of a newspaper, and that exposes the internal life of the squad.
"I sorted out the problem internally, and as far as I was concerned it was done and dusted.
"I had another chat with him (Anelka). The next day (Friday) and I left open the possibility for him to apologise, something which he did not want to do."
Domenech, who is the first French coach to take the team to three successive major championships, conceded that outbursts like Anelka's did nothing in terms of setting an example to the young supporters.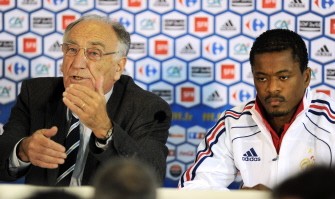 Jean-Pierre Escalettes (L), president of the French Football Federation, answers questions next to France's football captain Patrice Evra (R) during a press conference in Knysna on June 19, 2010. AFP
"The decision to exclude him was the right one," said Domenech, who prior to the finals surpassed Michel Hidalgo as the France coach to have been in charge of the most matches.
"I am sorry for the children for whom the French team represents something.
"He (Anelka) does not have the right to say such things."
France must beat South Africa handsomely on Tuesday and hope that the other match between Mexico and Uruguay does not end in a draw if they are to have any hope of reaching the second round.