Vietnamese swimmer Nguyen Thi Anh Vien yesterday continued earn new records in the women's 200 m butterfly and freestyle finals. It was a successful day to Anh Vien in the 28th SEA games.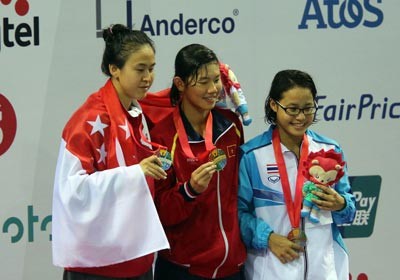 Anh Vien beats seven SEA Games records (Photo:SGGP)
Anh Vien excellently defeated competitors from Thailand, Indonesia, Philippines and the host country to bring a gold medal when finishing the category in 2'11"12 in the women's 200 m butterfly competition. With the result, Anh Vien clocked at the SEA Games record of 2'13''49.
Her countrywoman Le Thi My Thao also attended in the catergogy; however, Thao was ranked in the sixth position.
Anh Vien continued to successfully compete and clocked the SEA Games record in the women's 200m freestyle finals when she finished in 1'59"27.
In the fourth competitive days within the framework of the 28th SEA Games, Anh Vien brought two gold medals' tally whereby she broke two records at the 28th SEA Games.
Earlier, Hoang Quy Phuoc did not compete successfully when he finished in 54"28 in the men's 100 m butterfly finals. With the result, Quy Phuoc was ranked the fourth position; meanwhile, Singaporean competitor Joseph Schooling becomes winner with achievement of 52"13.
In the men's 400m individual medley swimming category, Tran Duy Khoi grabbed a bronze medal with victory of 4'26"29. Quah Zheng Wen won a gold medal in the category. Duy Khoi had ever achieved gold medal in the 400 m individual medley men at the 27th SEA Games in Myanmar.
Statistic showed that Vietnam Sport Delegation currently wins seven gold, two silver and three bronze medals from swimmers while Vietnamese delegation has targeted eight medals for swimming category.
Up to now, Vietnam ranked the third position in the medal tally with 33 gold, 16 silver and 38 bronze medals after Singapore with 52 gold medals and Thailand with 38 gold medals.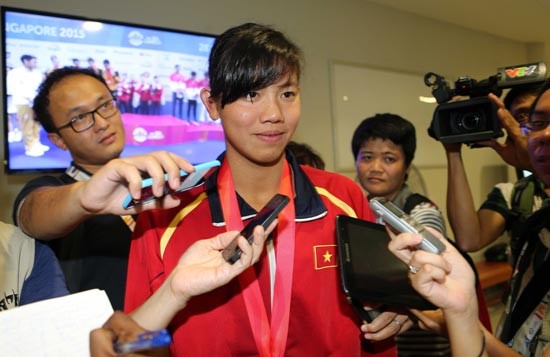 Happy face of athlete Anh Vien after she wins a gold medal and clocks SEA Games record. (Photo:SGGP)