Last month, Anna Kournikova, winers of 1999 and 2002 double title when paired with Hingis, appeared in Los Angeles on the catwalk show held yearly by General Motor(GM).
Dressed in a black silk tight festive dress, glamorous Anna Kournikova together with top-world models blew off the night performance attended by hot music and film celebrities
on the night of launching GM new car designs.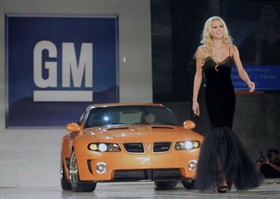 Anna Kurikova on the Los Angeles GM  show.  (Photo Reuter)
Though just having shifted to the world of showbiz, Anna Kournikova has been always brilliant on catwalk stages. She always appeared to be the star in whichever show she appeared despite the presence of other hot models.
In fact, though the GM show saw the appearance of hot Hollywood actress Eva Longoria in "Desperate Housewives", young beautiful Lindsay Lohan, and even leading model Carmen Electra, it was not anyone else but the ex-Russian tennis star became the center of attraction in the GM show. Even new designs of Cadillac STS-V were lured by her glorious beauty.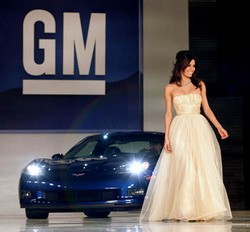 Eva Longoria on the Los Angeles GM show. (Photo Reuter)
At the age of 24, Anna really looks more glamorous than the time of her competition. Anna said: "Of course I have certain changes in my figure. I am lighter in weight. My shoulders are of less fat. My legs and my body are slim enough to look good."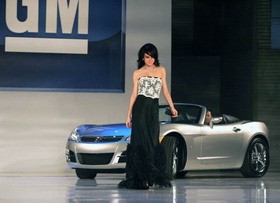 Linsay Lohan on the Los Angeles GM show.  (photo reuter)
When asked what had made the changes, she said: "What I concerned most on the court was how to make a strong serve as the William sisters, but now I am not on the court but the catwalk stages"
She has been dating for a long time with Enrique Iglesias, a Latin music star. To be so famous on both the tennis courts and catwalk stages, Anna Kournikova will continue being the center of the public interest if one day she announces her marriage with Enrique.