BUENOS AIRES, July 27, 2010 (AFP) - The Argentine Football Association (AFA) on Tuesday elected not to renew Diego Maradona's contract as national team coach, AFA spokesman Ernesto Cherquis Bialo said.
Doubts had surrounded the 49-year-old's future ever since a tense meeting with AFA president Julio Grondona on Monday and newspapers had spent the day speculating on who would succeed the man who led the team to victory as star player at the 1986 World Cup.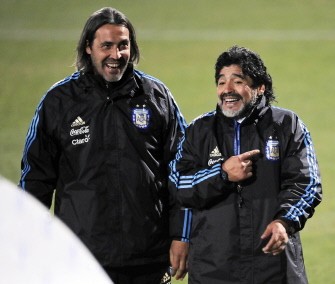 (FILES) Argentina's coach Diego Maradona (R) talks to Argentina's under 20 coach Sergio Batista during a team training session at the University's High Performance Centre in Pretoria on June 25, 2010. AFP
"The president put some salient points to Maradona in their long conversation yesterday," Cherquis said.
"And the executive committee unanimously resolved not to renew Maradona's contract as technical director of the national teams."
As an inexperienced coach, Maradona's record over 18 months was less than stellar and the team only qualified for the World Cup finals by the skin of their teeth.
Although several players had spoken up for him after a run to the quarter-finals of the World Cup, where Germany proved too strong, the AFA decided it was time to give the job to someone else.
Maradona had said earlier in the week that he hoped to continue in his role but only on condition he could keep his backroom staff, including faithful assistant Alejandro Mancuso.
Media reports suggested that Grondona had vetoed that wish.
Maradona's often controversial tenure saw him use more than 100 players as he grappled with various formations.
He was banned from all football activity for two months after crudely insulting journalists in the aftermath of the win over Uruguay last October that secured Argentina's place at the World Cup.
"It's official -- Maradona is no longer the coach of the Argentine team," said La Nacion newspaper in its online edition.
"It's the end of a cycle," the paper added.
Clarin daily said on its website: "Grondona shows Maradona the exit."
One name in the frame to succeed him is Alejandro Sabella, 55, who led Estudiantes to the Copa Libertadores last year.
Other potential candidates include Miguel Angel Russo (Racing Club) and Sergio Batista, currently in charge of the Argentine under-20s and who helped steer the country to Olympic glory in the Beijing Games in 2008.
Batista has been chosen to select a squad for the August 11 friendly against the Republic of Ireland in Dublin.
According to Cherquis, there is "no urgency" to find a new man long-term.
Fans reportedly have a soft spot for Carlos Bianchi, who has enjoyed success with Velez Sarsfield and Boca Juniors, but his chances are believed to be slim due to a poor relationship with Grondona.
Maradona is the greatest player in Argentina's history, having led the country to their second World Cup title in 1986 and a runners-up finish four years later.
He took charge of the national side in November 2008 and oversaw an occasionally chaotic qualifying campaign that included a record 6-1 drubbing at altitude in Bolivia.
Initially, the side played well at the World Cup in South Africa and won all three group matches before beating Mexico in the last 16 but Germany thrashed the two-time champions 4-0 in the quarter-finals.
Argentina will host next year's Copa America as they chase a first major trophy at senior level since 1993.