In a friendly football match at the My Dinh Stadium in Ho Chi Minh City on July 17, Arsenal Club beat the Vietnamese National Team with seven goals to one.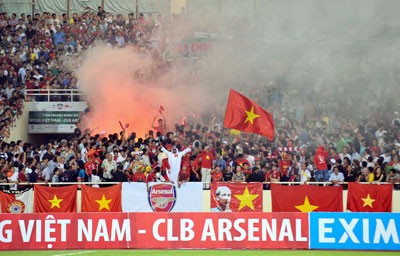 Thousands of fans crowded My Dinh Stadium before match (Photo: SGGP)
Thousands of fans crowded My Dinh Stadium to support the local team for a spell-binding 90 minute match.
A. Wenger, Head Coach of Arsenal Club said that he chose the best players to compete with the Vietnamese team, including goalkeeper Szczesny, defenders Sagna, Koscielny, Jenkinson, Gibbs, midfielders Arteta, Chamberlain, Rosicky, Serge Gnabry and strikers Podolski and Giroud.
Although this was only a friendly match, the players from Britain gave an impressive professional performance.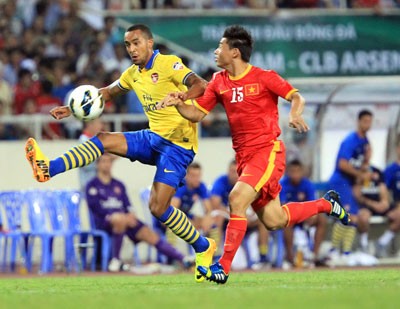 (Photo: SGGP)
The football players of Arsenal Club attacked constantly and won seven goals at the end, with hat-tricks by French striker Giroud, midfielder Oxlade-Chamberlain and striker Akpom and Miquel.
On the Vietnamese team side, Head Coach Hoang Van Phuc chose the most experienced players such as Hong Son, Quang Thanh, Phuoc Tu, Gia Tu, Van Nhien, Minh Phuong, Tan Tai, Trong Hoang, Thanh Luong, Anh Duc and Cong Vinh.
Although the Arsenal team included many star football players, the Vietnamese team played confidently.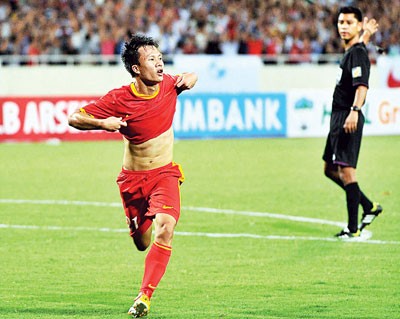 Midfielder Tran Manh Dung rejoices after his goal(Photo: SGGP)
Despite the lead of seven goals, the Vietnamese team still controlled the ball well and played confidently, bringing in one goal by midfielder Tran Manh Dung after 79 minutes of play.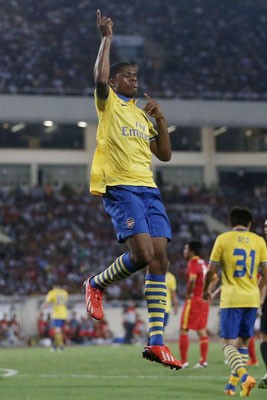 Stricker Chuba Akpom scores hat-tricks in the friendly match (Photo: SGGP)