LONDON, May 21, 2011 (AFP) - The end of the season can't come soon enough for Arsene Wenger following Arsenal's depressing slump during the closing weeks of the campaign.
Wenger and his side will round off their Premier League programme at Fulham having slipped back to fourth place following a run that has brought just two wins in 12 games since their defeat to Birmingham in the League Cup final.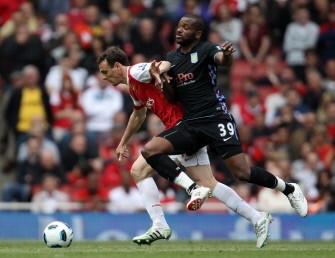 AFP - Arsenal's French player Laurent Koscielny (L) fights for the ball with Aston Villa's Darren Bent during the Premiership football match at the Emirates Stadium in London on May 15, 2011. Aston Villa won 2-1
Having once been title contenders, the Gunners must now rely on Manchester City slipping up at Bolton to have any chance of reclaiming third spot and avoiding the need to face a tricky Champions League qualifying round tie.
Arsenal's decline has led to growing pressure on Wenger for the first time since the Frenchman took charge of the club in 1996 with the manager facing criticism for his failure to strengthen key areas of the team.
Wenger himself has shouldered responsibility for his team's failings and conceded weaknesses in defence have cost the club dearly this season although he maintains the season could have turned out very differently.
"Overall, I think that is the closest we have been to winning the championship in recent years and that is why it is even more frustrating because if you look at the way we lost the games in the decisive moments, it is sure that we need to add some maturity to our team," he said.
Central to Wenger's plans will be repelling the expected summer approach from Barcelona for skipper Cesc Fabregas.
One player seemingly certain to leave, however, is Brazilian midfielder Denilson, who has grown tired of life on the fringe of the team.
"A footballer's career is over very quickly so it is time for me to move on," he told the Sun newspaper. "This has been the worst season of my life.
"I made up my mind eight months ago. But I haven't said anything because I did not want to disrupt the team during the season.
"I've been to see Arsene Wenger and told him how I felt and he agreed to let me go. I know some people will think I'm crazy. They are right. It is a great club, with a great organisation, a great manager and so many talented players.
"I need a fresh challenge and although I'm taking a big gamble, I'm ready to take that risk."
Denilson is unlikely to figure at Craven Cottage while Samir Nasri, Abou Diaby and Gael Clichy face late fitness tests.
Fulham manager Mark Hughes, meanwhile, admits he is in limbo with regards to his preparations for next season.
Hughes is still waiting on official notification on whether his side have made it into next season's Europa League, based on the fair play league.
He admits his plans for pre-season programmes and player recruitment are on hold until they find out from UEFA whether they will be involved.
Hughes, whose side could equal the club's best season by finishing seventh if they beat Arsenal and Everton lose to Chelsea, said: "Whichever situation we find ourselves in we will go with it. We can't commit to any pre-season tournaments, which could possibly hinder our preparations.
"We just have to bide our time and hopefully by this time next week we will know officially.
"We are OK with numbers, in fairness. We will probably look to add quality with players for the first XI.
"It would be an added advantage if we could offer them European football. We want to be involved in it and want to do well."
Hughes has Damien Duff still on the sidelines, along with Moussa Dembele, but winger Simon Davies will be on the bench having recovered from a calf problem.