LONDON, March 7, 2010 (AFP) - Arsenal manager Arsene Wenger will make a decision on whether Cesc Fabregas will play in the vital Champions League game with Porto in the next 48 hours after the Spain star's latest injury setback.
Soon after scoring in Arsenal's 3-1 win over Burnley in the Premier League at the Emirates Stadium on Saturday, Gunners captain Fabregas suffered a recurrence of his hamstring problem.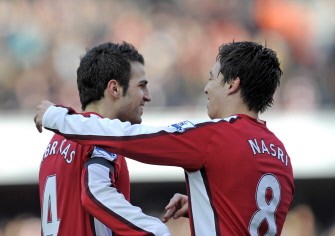 Cesc Fabregas (L) celebrates scoring the opening goal with French midfielder Samir Nasri during the English Premier League football match between Arsenal and Burnley at the Emirates stadium, on March 6, 2010. AFP PHOTO
He is now rated doubtful for Tuesday's last 16 second leg tie against Porto, where Arsenal will try to overturn a 2-1 deficit.
"Cesc has a hamstring and how deep the damage is we don't know because it's too early," said Wenger.
"We will see tomorrow (Sunday) or Monday, it will be a late decision on whether he plays on Tuesday."
Fabregas's injury came just a week after Arsenal lost fellow midfielder Aaron Ramsey for the rest of the season with a broken leg.
But there was better news for Wenger in the performance of England winger Theo Walcott on a day which ended with the third-placed Gunners two points off the top of the table after champions Manchester United returned to the summit with a 1-0 win away to Wolves.
Walcott, after a disappointing display during England's midweek 3-1 friendly win over Egypt at Wembley, was subjected to a blistering attack by former international Chris Waddle.
Waddle insisted Walcott did not understand football but the 20-year-old produced a menacing performance at the Emirates to silence his critics.
"I was delighted with Theo because I think he did what a player has to, not talking in the newspapers but doing his talking on the pitch," said Wenger.
"He didn't answer any critics other than it was a good performance today. He showed he is mentally strong.
"I was interested to see how we would respond and I was quite sure Theo would respond with a good performance.
"You never know how deep it affects you when you get criticised and the way he answered it at his age was remarkable."
Turning to Arsenal's quest for the title, which continues next week with another match against relegation-threatened opposition in Hull, Wenger said: "It's down to our consistency. If we win our games we will be there, that's for sure. Every game demands full focus and commitment, especially against teams fighting to stay up.
"Next weekend we play at Hull and we can expect the same sort of game. We had the chances to score plenty of goals (against Burnley) and we didn't take them. It was tight until the end when we could have scored four or five."
Fabregas gave Arsenal a 34th minute lead before his premature exit.
Burnley, who only have crisis club Portsmouth below them in the table, hit back through David Nugent's equaliser five minutes into the second half.
But Walcott's excellent strike on the hour and a goal from Arsenal substitute Andrey Arshavin condemned the Clarets to their 14th away defeat of the season.
Nevertheless Burnley manager Brian Laws said: "There were a lot of pleasing things to come out of it, despite the result.
"We responded much better in the second half because too many times the players have folded this season after going a goal behind.
"It was nice to get the goal and then to actually look in a comfortable position. We knew Arsenal were going to create chances and we lived a charmed life on many occasions.
"But Arsenal took their chances whereas we snatched at ours and that is the difference between the two sides," Laws added. "We had good spells and we've got to make them count.
"I'm going to take a lot of positives," he insisted. "This isn't going to be the game that decides our future in the Premier League, the ones at home will do that. I still think we can get that first away win."