Two executives of the Arsenal Football Academy in Thailand have started a one-day working trip in Viet Nam with the go-ahead from Arsenal manager Arsene Wenger in England.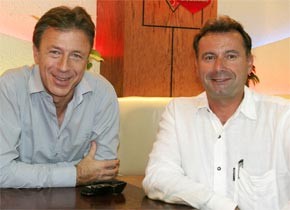 Christophe Larrouilh (L) and R. Bert Procuceur pose for picture in Ho Chi Minh City on Tuesday. (Photo: SGGP)
R. Bert Procuceur, managing director of the football academy, and coach Christophe Larrouilh arrived in Ho Chi Minh City on the Tuesday afternoon and flied today to Gia Lai Province, where they will meet with Hoang Anh Gia Lai Club's boss Doan Nguyen Duc in one day.
Their working trip is the start of a cooperation program for football development between the Vietnamese club and English Premier League's Arsenal. 
The two guests are due to report their trip's results to Arsenal manager Wenger this weekend.
Hoang Anh Gia Lai, the Vietnamese league's two-time champions, are trying to cooperate with the "London Gunners" to establish a football academy in Viet Nam. Hoang Anh boss Duc met with Wenger in London during his working visit last month.