Vietnam Footbal Association on Saturday confirmed the UK Footbal team Arsenal would be protected by 2,000 police officials and security guards during their visit to Vietnam for a friendship match with Vietnam team.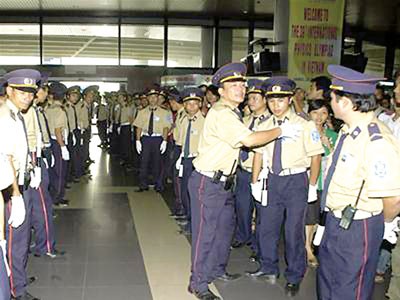 Security guards are ready to protect London's Gunners. (Photo: Hoang Minh/ SGGP)
Arsenal well-known as London's Gunners will go to Vietnam by a special airplane and it will arrive at Noi Bai International Airport in Hanoi early tomorrow morning.
The Gunners will be welcomed at the airport isolation area and no one can be allowed to the area without permission. So fans cannot meet them at the airport for posing photos or signature like other idols.
The team will stay in an isolation area of InterContinental hotel which is one of the superious hotels in Hanoi and the gunners won't receive any guest in the area that will protected by tens of security guards.
However the Organizing Board only ensure safe for them outside round. The team bring with their onwned body guards.
The event is making the Vietnam Football Association ever exhauted because of hard security and food conditions ruled by the team.
Nguyen Trong Hy, Chairman of the Vietnam Footbal Association said that Vietnam would be harshly fined millions of US dollars for failure of safe protection.
The Gunners won't try Vietnamese food to keep them healthy during the match, he added.
Not only Vietnamese fans witnees the friendship match betwenn Arsenal and the Vietnam team but also 200 Arsenal fans from the UK 400 international fans.
Professionally, Arsenal regulate that fans from the UK should have obligate all rules like in the UK stadiums. That means they cannot be allowed to drink wine or bring wine bottle into the stadium My Dinh where the match will be hold.
Hanoi Police will put scanners at stadium gates in ways that they have never done before.