AS Roma have agreed to compete with the national football team in late July, the Vietnam Football Federation (VFF) announced.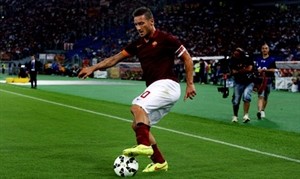 Totti of AS Roma will bring their best players for a friendly match with Viet Nam on July 24. (Photo: washtimes.com)
The Italian Serie A's runners-up team are expected to land in Hanoi with their best players such as Captain Francesco Totti, Radja Naggolaing, Adem Lajic and Ashley Cole.
The match will be organised at the My Dinh Stadium on July 24.
The Italians are the second team to confirm their Vietnam visit, after England's Manchester City who will meet the hosts three days later at the same venue.
Both teams will arrive in Vietnam after their tours in Australia, where they will play each other and Real Madrid in Melbourne.
AS Roma lost 1-3 on aggregate to Manchester City in this season's Champions League in Group E.
Early last year, AS Roma sent their U19 squad to compete in a four-team tournament in HCM City's Thong Nhat Stadium.
It had planned to tour Vietnam two years ago, but could not make it as they were busy with the Italian Cup semi-final competition.-VNA