Viet Nam's Eximbank and Saigon Jewelry Company (SJC) signed a contract with the Viet Nam Football Federation (VFF) on May 26, 2006 to sponsor the ASEAN Women's Football Championship in Ho Chi Minh City.
The signatories were Eximbank general director Nguyen Gia Dinh, SJC general director Nguyen Thanh Long and VFF deputy general secretary Duong Nghiep Khoi.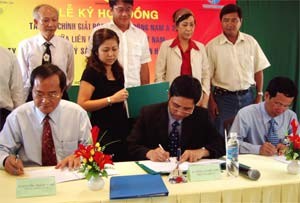 (From L) Mr. Nguyen Thanh Long, Mr. Duong Nghiep Khoi and Mr. Nguyen Gia Dinh sign the contract on May 26 (Photo: Tuong Thuy)
The three sides declined to reveal the value of the contract. However, Mr. Khoi said the two sponsors agreed to cover all organizing costs.
The ASEAN Football Federation (AFF) has authorized VFF to organize this second ASEAN Women's Championship at Thanh Long Stadium in Ho Chi Minh City's Binh Chanh District from May 29 to June 2. The four participating teams are defending champions Myanmar, reigning runners-up Viet Nam, Thailand and the invited team, Taiwan. AFF invited Taiwan with the hope of improving the tournament's quality, according to the Viet Nam Football Federation.
The four teams will compete on a round-robin basis. The winners will be the team with more points than the others, and will take the trophy, no money prizes.
The first ASEAN Women's Championship also took place at Thanh Long Stadium in 2004. Myanmar beat Viet Nam 1-0 in the final, taking the trophy. However, the Vietnamese women won the Southeast Asian Games three times in a row, in 2001, 2003 and 2005.
This year, Taiwan are deemed to be stronger than the three other teams, which are from Southeast Asia. All three matches of Viet Nam will be broadcast live on the VCTV3 channel of Viet Nam Television.

SCHEDULE
May 29
Viet Nam vs. Taiwan 4pm
Thailand vs. Myanmar 6pm

May 31
Thailand vs. Viet Nam 4pm
Myanmar vs. Taiwan  6pm

June 2
Taiwan vs. Thailand  4pm
Viet Nam vs. Myanmar 6 pm