Vietnam in Group B of the Asian Games football tournament reached the last 16 on Saturday in China's Guangzhou despite of their 0-1 defeat to Iran, and will take on North Korea in the knock-out round.
This is the first time Vietnam have made it since they first joined the Asian Games in 1998.
Iran, the 2002 Asian Games champions, topped Group B after three wins, followed by Turkmenistan in second spot and Vietnam third. Bahrain were at the bottom with one point.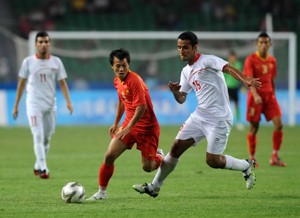 Vietnam midfielder Pham Thanh Luong (in red) is challenged by an Iranian player during their Asian Games match in China's Guangzhou on Nov. 13, 2010. Iran won 1-0. (Photo: SGGP)
Vietnam beat Bahrain 3-1 in their opener and then lost 2-6 to the Turkmen in their second game.
Vietnam survived the group stage as a best third-placed team. Going through the same way were Malaysia from Group A, India from Group D and Uzbekistan in Group E.
China in Group A reached the knock-out stage Saturday with a 3-0 win over Malaysia and who will play South Korea for a place in the quarter-finals,
Malaysia still will meet Iran while Japan will tackle India for a quarter-final place. The other matches are Qatar vs. Uzbekistan, UAE vs. Kuwait, Oman vs. Hong Kong, and Turkmenistan vs. Thailand.
Asian Games football knock-out stage:
China vs. South Korea
Qatar vs. Uzbekistan
UAE vs. Kuwait
North Korea vs. Vietnam
Iran vs. Malaysia
Oman vs. Hong Kong
Turkmenistan vs. Thailand
Japan vs. India