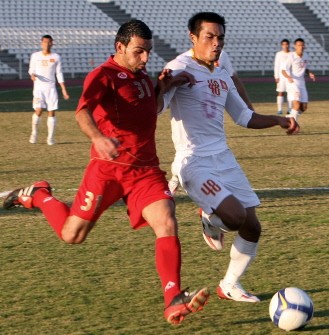 Vietnam's Truong Dinh Luat (R) competes with Lebanon's Hamze Abboud during their Group D Asian Cup 2011 qualifying match on January 6, 2010 in Sidon, Lebanon. AFP PHOTO
Hosts Lebanon held Vietnam to a 1-1 draw in their 2011 Asian Cup qualifier Wednesday, ending Vietnam's slim hopes of going to Doha.
In another Group D match in China, the home side drew 0-0 with Syria and both were qualified though all the four teams have one more game to play on Jan. 17.
The China vs. Syria match took place one hour before the other match, and the Vietnamese side under coach Henrique Calisto already knew the result.
Syria were on top of the group with 11 points, China second with 10 points. Vietnam gained only five points and Lebanon just one.
The Jan. 17 fixtures are Vietnam vs. China in Hanoi, and Syria vs. Lebanon.
At the Saida Municipal Stadium in Lebanon Wednesday, the home side took the lead after 20 minutes through Mahmoud El Ali with a finish inside the penalty area. Vietnam winger Pham Thanh Luong equalized a few minutes before the break.
Vietnam created a series of chances in the second half but failed to convert them.
In the 2007 Asian Cup, co-hosted by Indonesia, Malaysia, Thailand and Vietnam, the Vietnamese were among the last eight.