GUANGZHOU, Nov 20, 2010 (AFP) - Lin Dan joined world number one and arch rival Lee Chong Wei in the men's semi-finals of the Asian Games badminton on Friday, but two-time reigning champion Taufik Hidayat went crashing out.
The women's final on Saturday will be an all-Chinese affair after Wang Xin and Wang Shixian enjoyed easy passages.
The 27-year-old Lin set up a meeting with Hidayat's conqueror Park Sung-Hwan in the last four after the Chinese demolished Vietnam's Nguyen Tien Minh 21-9, 21-16.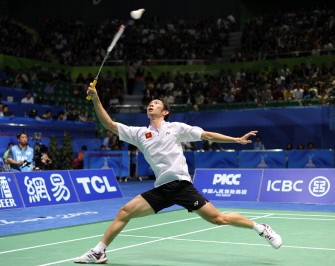 Nguyen Tien Minh of Vietnam returns a shot against Lin Dan of China during their men's singles badminton quarterfinals at the 16th Asian Games in Guangzhou on November 19, 2010. AFP
The Asian Games gold is the one major title eluding Lin in his illustrious career.
"I played well at the start of the match and it was easy to win," said Lin.
Park, the world number 11, has previously enjoyed notable success over the Chinese star, beating him at the world championships in Paris in August, though Lin defeated Park over three games at the men's team final here.
The South Korean proved once more that he was capable of an upset as he battled past Indonesian ace Hidayat, the gold medal winner in 2002 and 2006.
Park took an early lead against an out-of-sorts Hidayat, the world number three, and never looked back, winning their last-eight clash 21-15, 21-16.
"I don't feel anything right now," said Hidayat, a former Olympic champion.
"I didn't feel very good day and I played badly. I don't want to give any excuses for why I lost, I just lost."
Lee Chong Wei was down early against Thailand's Boonsak Ponsana, who beat the Malaysian star in the men's team event on Saturday, trailing 6-2.
But the 28-year-old battled back to lead 10-8 and then pulled away to win the opener 21-13 and the second game 21-17.
Lee, who has complained of back and ankle injuries in the lead-up to the Games, said he was his "own worst enemy".
"It's there when I come out on the court," he said of the niggling injuries. "But when I'm out on court I forget about it and it's not a big thing.
"This event is only every four years and I'm not sure whether I will be around for the next one," Lee added, underlining the motivation to win gold in Guangzhou.
He will face China's Chen Jin in Saturday's semis after the world title holder overcame a hesitant start to beat Taiwan's surprise package Chou Tien-chen, ranked 66.
Chen was behind in the first game before pulling level at 13-13 and 16-16 as he belatedly began to find his range, taking the match 21-19, 21-14.
The women's semis were a more predictable affair.
Hong Kong's Yip Pui Yin was back on court barely 12 hours after she shocked India's golden girl and world number three Saina Nehwal late Thursday in three games, and it showed as she got off to a sluggish start against Wang Shixian.
Yip was rejuvenated for a while in the second game, but the result was never in doubt, Wang winning 21-14, 21-14 to book her place in the final.
World number one Wang Xin had a similarly easy time against number 11 Eriko Hirose, thrashing the Japanese 21-7, 21-15.