Vietnam upset Bahrain 3-1 in their first match of the Asian Games in China's Guangzhou Monday before Iran crushed Turkmenistan 4-1 to take the lead in Group B.
Dinh Thanh Trung fired for Vietnam after taking the ball from playmaker Pham Thanh Luong in the 34th minute at the Guangdong People's Stadium.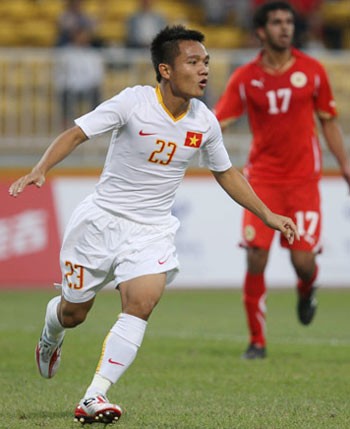 Vietnam's striker Dinh Thanh Trung celebrates his first goal in their first Asian Games match against Bahrain at the Guangdong People's Stadium in Guangzhou, China on Nov. 8, 2010. (Photo: VNExpress)
The Vietnam side's lead made it easier for them to play than during the early minutes when they had to struggle against more pressure.
The second half started and Trung challenged Bahrain goalkeeper Ahmed Mushaima with a free kick but the keeper denied.
Midfielder Nguyen Trong Hoang broadened the gap with his goal in the 72nd minute from a prompt counter attack set up by Vietnam keeper Bui Tan Truong.
Striker Nguyen Anh Duc secured the victory for the Vietnamese with a goal into the empty net in the 88th minute as the Bahrain goalie denied Thanh Trung's penalty kick.
Bahrain earned their consolation goal also from a penalty kick in the injury time. Striker Sayed Hashim converted the penalty spot against Vietnam keeper Truong.
Group B favorites Iran, who won Turkmenistan 4-1 Monday, will take on Bahrain Wednesday while Vietnam will play the Turkmen. The group's last games are set for Saturday, Nov. 13 – Bahrain vs. Turkmenistan and Iran vs. Vietnam.
Also on Monday, Japan defeated hosts China 3-0 in Group A while North Korea beat neighbors South Korea 1-0 to secure the Group C lead.
Standings in the Asian Games football tournament after Nov. 8 matches (played, won, drawn, lost, goals for, goals against, points):
Group A
Japan 1 1 0 0 3 0 3
Malaysia 1 1 0 0 2 1 3
Kyrgyzstan 1 0 0 1 1 2 0
China 1 0 0 1 0 3 0

Group B
Iran 1 1 0 0 4 1 3
Vietnam 1 1 0 0 3 1 3
Bahrain 1 0 0 1 1 3 0
Turkmenistan 1 0 0 1 1 4 0

Group C
North Korea 1 1 0 0 1 0 3
Palestinian territories 1 0 1 0 0 0 1
Jordan 1 0 1 0 0 0 1
South Korea 1 0 0 1 0 1 0

Group D
Kuwait 1 1 0 0 2 0 3
Qatar 1 0 1 0 0 0 1
Singapore 1 0 1 0 0 0 1
India 1 0 0 1 0 2 0

Group E
Uzbekistan 1 1 0 0 3 0 3
Hong Kong 1 0 1 0 1 1 1
UAE 1 0 1 0 1 1 1
Bangladesh 1 0 0 1 0 3 0

Group F
Thailand 1 1 0 0 6 0 3
Oman 1 1 0 0 3 0 3
Maldives 1 0 0 1 0 3 0
Pakistan 1 0 0 1 0 6 0