The 3rd Asian Indoor Games closed at the My Dinh National Stadium in Hanoi on Sunday with China taking the first position, hosts Vietnam second Kazakhstan third.
The closing ceremony included short-range fireworks and an art performance.
Mr. Nguyen Danh Thai, Vietnamese Deputy Minister of Culture, Sports and Tourism, handed over the flag and torch of the Games to a representative of the Olympic Council of Asia, which has not named the host country for the 2013 competition, which will no longer be called Asian Indoor Games.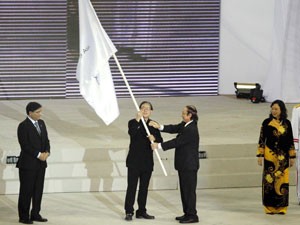 Vietnam's deputy culture and sports minister Nguyen Danh Thai (2nd,R) hands over the Asian Indoor Games flag to an Olympic Council of Asia representative at the AIG closing ceremony in Hanoi Nov. 8 (Photo: SGGP)
This year's Games opened on Oct. 30. Finally, China came first with 48 gold, 25 silver and 19 bronze medals. Vietnam ranked second with 42 golds, 30 silvers and 22 bronze medals. The third place went to Kazakhstan with 21 golds, 16 silvers and 21 bronzes.

Themed "For a Rising Asia", the event saw the participation of more than 4,000 athletes, coaches and officials from 43 countries and territories to compete in 20 official sports.