GUANGZHOU, China, Nov 28, 2010 (AFP) - Hurdler Liu Xiang, badminton star Lin Dan and ace swimmer Park Tae-Hwan cemented their golden reputations at the Asian Games and will all be threats at the 2012 Olympics.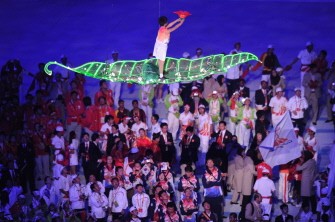 A child performer is hoisted aloft during the closing ceremony for the 16th Asian Games in Guangzhou on November 27, 2010. AFP
But the 2010 Asiad also showcased a raft of young talent who are aiming for gold when London swings around in less than two years' time.
Here AFP highlights Asian names to watch at the Olympics:

SWIMMING
Sun Yang
- China won 24 of the 38 swimming gold medals in Guangzhou with 19-year-old Sun Yang adding lustre to the hosts' performance on the final night when he came within a whisker of smashing Australian star Grant Hackett's long-standing world record in the men's 1,500 metres freestyle.
Urged on by a partisan crowd he obliterated the Asian mark held by Zhang Lin by more than 10 seconds as he clocked 14min 35.43sec to beat both South Korean Park Tae-Hwan, the star of the pool with three gold medals, and Zhang.

Ye Shiwen
- Just 14, Ye underlined the strength of China's younger generation of swimmers, winning the 200m individual medley after her earlier success over 400m. Fifteen-year-old Shao Yiwen won the women's 400m freestyle and Li Xuanxu, 16, took 800m freestyle gold.
Ye said training in Australia had improved her technique, particularly at the turns, and her focus was now on London in 2012.
"I have also improved a lot in my physical ability. My aim in the coming two years is to win in the London Olympics. I hope that I am able to win," she said.

ATHLETICS
Li Ling
- China's Li Ling won gold in the women's shot put with a personal best, defending the title she won at the Asian Games in Doha in 2006. The 25-year-old, fourth at the 2007 world championships, finished well down the field at the 2008 Beijing Olympics, in 14th spot, with a throw of 17.94. New Zealand's Valerie Vili won gold with 20.56.
But in Guangzhou Li threw 19.94 -- a full two metres further than her effort in Beijing.

Femi Ogunode
- Qatar's Nigerian-born Ogunode completed a memorable sprint double in the men's 200m and 400m, setting personal best times in both events.
Ogunode, just 19, won the 200m in 20.43sec, having already topped the podium in the 400m in a time of 45.12 -- the first such Asiad double since 1958.
"Michael Johnson got gold medals in the men's 200 and 400m so he was called 'flying bird'. And now I'm flying bird too," said Ogunode.
"My next aim is to win the world championships and the Olympics in both the 200m and 400m."

BOXING
Zhang Zhilei
- Chinese super-heavyweight Zhang Zhilei won gold to add to his Olympic silver two years ago, while compatriot Zou Shiming -- the Olympic champion -- retained his light-flyweight title.
The lightning-quick Zou is rated the second top amateur in the world in his class and says he intends to turn professional after the London Olympics.

SHOOTING
Zhai Yujia
- Zhai lived up to his promise as one of China's brightest young shooting talents when he equalled the world record in the men's 10m Running Target event.
Zhai, 17, led from start to finish to take the individual title with a score of 590, drawing level with German Manfred Kurzer's world mark at the Athens Olympics in 2004.

FOOTBALL
Kensuke Nagai
- Japanese striker Nagai, just 21, won the golden boot as his five goals helped steer Japan to seven wins in seven games and their first Asian Games football gold.
The 21-year-old from Fukoka University is also being tipped to form part of the senior squad for January's Asian Cup in Qatar, having played just one international so far.

WEIGHTLIFTING
Yang Zhe
- Chinese -105kg champion Yang, 19, upset the top three Asian lifters at the world championships and then claimed a surprise gold in the men's -105kg class at the Asian Games.
Yang only made his international debut for China at last year's East Asian Games in Hong Kong.

Li Ping
- Her victory in the women's -53kg came courtesy of a world record snatch of 103kg and then combined with a best clean and jerk of 127kg to hand the 22-year-old another world record of 230kg.
The records completed a hat-trick for Li, who already held the world record for the clean and jerk of 129kg set in April 2007.
"I'm very happy to get a gold medal in my home country," beamed Li, who will receive 10,000 dollars from the Chinese government for breaking the overall record.

BASKETBALL
Ding Junhui
- A bright spot for the gold-medal winning Chinese side was 21-year-old Ding Jinhui who scored 14 points while snaring eight rebounds in the final win over South Korea and showing he could become a key member of the national team in the run up to the 2012 London Olympics.
The power forward was a regular starter in the absence of Yi Jianlian who was required to stay with NBA side Washington Wizards.