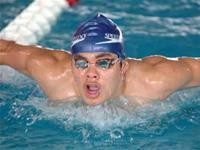 Nguyen Huu Viet, the 100-meter breaststroke champion of SEA Games 23
Viet Nam's sports journalists nationwide have selected the country's most outstanding athletes and coaches of 2005.
Swimmer Nguyen Huu Viet, 17, from Hai Phong City, topped the list of ten outstanding athletes of the year with 1,153 points from the selection.
He won a gold medal at the 100-meter breaststroke category at the 23rd Southeast Asian Games in the Philippines in November and December 2005. This is the first gold for Vietnamese swimmers as of the country joined in regional sports tournaments 40 years ago.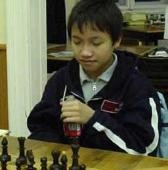 Chess grandmaster Nguyen Ngoc Truong Son
Chess grandmaster Nguyen Ngoc Truong Son, with four golds at the SEA Games, came second in the selection with 1,112 points. This boy was Vietnam's athlete of 2004 after becoming the second youngest grandmaster in the world.
The third place in the selection belonged to female high jumper Bui Thi Nhung, who clinched the first 23rd SEA Games gold for Viet Nam.
The other seven outstanding athletes were Do Thi Ngan Thuong in women's gymnastics, women Vu Thi Huong and Do Thi Bong in track and field, Nguyen Thi Huyen Dieu in women's taekwondo, Van Thi Thanh in women's football, Pham Van Mach in men's bodybuilding and male weightlifter Hoang Anh Tuan.
Coach Mai Duc Chung, largely credited for the three consecutive SEA Games crowns of the women's Vietnam football squad, was selected the coach of the year.
Following were Duong Duc Thuy in track and field, Le Cong in karate, Ho Thi Tu Tam in track and field, and swimming coach Chu Thi Bang.
Among the disabled athletes, Nhu Thi Khoa, with five track and field golds and three records set at the third Southeast Asian Para Games in December, was chosen to the top for the third consecutive year.
After her were track and field athlete Tran Nguyen Thai who also clinched five Para Games golds, swimmer Nguyen Thi Hao, track and field athlete Nguyen Thi Cao Nguyen, and table tennis player Vu Dang Chi.
The year's coaches for disabled athletes included Ngo Anh Tuan in track and field, Dong Quoc Cuong in swimming and Dang Van Phuc in track and field.