KUALA LUMPUR, Jan 27, 2010 (AFP) - World number-one Lee Chong Wei plans to retire in 2012, according to media reports Wednesday which said the badminton champ vowed to win the World and Olympic titles before bowing out.
The 27-year-old Malaysian, who has topped the rankings since 2008, said he hoped to maintain top spot until he steps down after the 2012 London Olympics.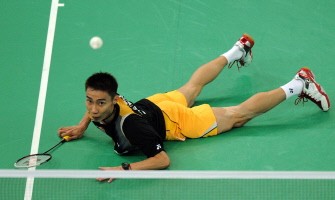 Lee Chong Wei of Malaysia dives for return against Thailand's Boonsak Ponsana returns in the men's singles final of the Malaysia Open Badminton Super Series in Kuala Lumpur on January 24, 2010. Lee won the match and the gold medal. AFP PHOTO
"I am close to the end of my playing career and I don't want to have any regrets after I retire, like not winning a single major title despite being the world number-one," Lee was quoted as saying in the New Straits Times.
"I have another three chances to win the World Championship but only one opportunity in the Olympic Games.
"This is why I have to be in my best form for the 2012 London Olympics. It will be my toughest challenge," said the player, who has won 24 career titles.
Lee, who was victorious in the recent Korean and Malaysian Open tournaments, has yet to win a major despite being the world's top player. Major titles include the All-England, World Championships and an Olympic gold medal.
The Malaysian champ said he has not given much thought about his plan after retirement but he is considering setting up an academy for young players.
"I am so happy to be the icon to inspire many youngsters here. If I can succeed as a badminton player, they can too," he told the Star newspaper.
"I have sacrificed a lot but I do not plan to leave the (national) team in the lurch. I will encourage the back-up shuttlers," he said.