Vietnam's number one badminton player, Nguyen Tien Minh, recently joined the Top Ten pay packets for Vietnamese athletes, with an annual income of approximately VND1.2 billion (US$66,600)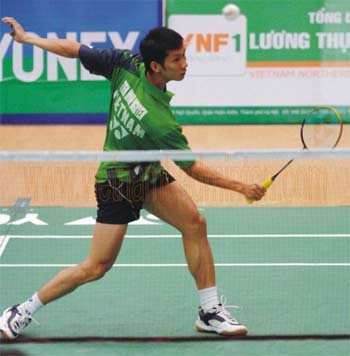 Nguyen Tien Minh is the sole badminton player appearing in Vietnam's Top Ten earning athletes
His income is from three sources. 
The first one is his new sponsorship deal with Becamex IDC, worth VND600 million ($33,300) per year. 
Explaining the increase of sponsorship from VND240 million ($13,330) to VND600 million, the deputy chairman of the Becamex's management board, Bui Van Duc, said it was due to Minh's success for being one of the world's Top Ten badminton players. 
Mr Duc also announced a renewal of the contract between Minh and Becamex. Upon the new contract, Minh will receive VND50 million ($2,770) per month if he keeps his place in world's Top Ten, otherwise, he will only receive VND20 million ($1,110).  
Currently, Minh is in eighth position on the world badminton federation's rankings for men singles.  
Another source of his income is from the Victor Sports Enterprise Co. In an agreement mid-2009, the Victor will sponsor Minh $24,000 per year for all his training and preparation for competitions. The agreement will continue till 2013. 
The last source is from the HCMC Department of Culture, Sports and Tourism.  
In related news, Minh will be defending his title at the Vietnam Open Grand Prix 2009 on October 6. 
The tournament will open from October 6 to 11.