Malaysia's Lee Chong Wei, the world's No.1 badminton player, beat top Vietnamese player Nguyen Tien Minh 2-0 their men's singles semifinal match of the Malaysia Open Super Series on Saturday in Kuala Lumpur.
Neck to neck in the first set, Minh lost at 20-22. Lee then earned an easy 21-11 win in the second set.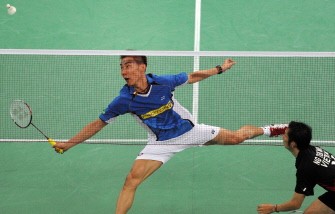 Lee Chong Wei (L) reaches for a return against Vietnam's Nguyen Tien Minh in their men's semi-final match at the Malaysia Open on January 23. AFPPHOTO
Given with berth to the semifinals, Minh will get 6,420 points in the world ranking table.
Minh is scheduled to compete in the Thomas Cup – the Asian qualifying round of the world men's teams tournament – in Thailand from Feb. 21 to 28.