In the 2011 Indonesia Super Series Premier, Vietnam's badminton star Nguyen Tien Minh is scheduled to take on many ace badminton players including South Korea's Lee Hyun Il and Malaysia's Lee Chong Wei.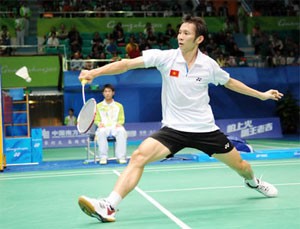 Vietnam's badminton ace Nguyen Tien Minh is expected to cope with many difficulties in the 2011 Indonesia Super Series Premier
This sixth super series tournament of the 2011 BWF Super Series brings most of the top-ranking badminton players together. Some names can be listed here is China's Lin Dan and Chen Long, Indonesia's Taufik, Denmark's Peter Hoeg Gade and most importantly, Lee Chong Wei, the ace of aces in the world.
This tournament is such a golden opportunity for badminton players to accumulate their points in the Badminton World Federation's ranking. The winner will be awarded with 11.000 points.
The winner in the men's singles will receive US$45,000 while the first runner-up will be offered $22,800. Each player entering quarterfinal gets $3,600.
As schedule, Tien Minh will encounter his first tough opponent, Lee Huyn Il, the 13th ranked player in the world. Although Tien Minh has won Lee twice, Tien Minh should be highly alert as Lee is playing with his increasing manners.
He has just won two Chinese top players, Chen Long and Chen Jin in early June while Tien Minh has not got any win over these two Chinese aces.
If Tien Minh beats Lee Hyun Il, he will confront his second worthy opponent in this year tournament, China's Wang Zhengming or even Malaysia's Lee Chong Wei in the quarterfinal.
In last year tournament, Vietnam's Tien Minh once reached semifinal. What he needs is doing the same this year or he will lose many points and ranks in the world ranking.
The 2011 Indonesia Super Series Premier will be held in Jakarta, Indonesia from June 21–26, 2011, with a total prize of $600,000.