ROME, April 23, 2010 (AFP) - Inter Milan striker Mario Balotelli apologised on Friday after being criticised by fans and team-mates for throwing his shirt to the ground following his side's 3-1 Champions League victory over Barcelona.
"I'm sorry for my actions on Tuesday night," the 19-year-old Italian said in a statement released by the Ansa news agency.
"When I went onto the pitch and I heard the whistles and the shouts from the coach, I lost my head," he continued.
"I didn't understand anything and then, at the end, I threw my shirt, just to express my anger.
"I apologise for not having been able to control the tension and the frustration that have been affecting me for a number of months. It's been one of the most difficult periods of my life."
Balotelli angered supporters after coming on as a substitute with 15 minutes to play in Tuesday's semi-final first leg by playing casually and neglecting to help his team-mates in defence as they sought to keep reigning European champions Barcelona at bay.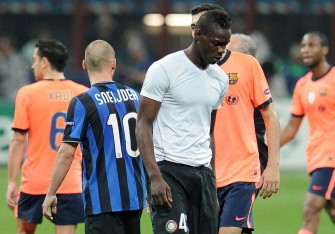 Inter Milan's Mario Balotelli (C) leaves the field after Champions League first leg semifinal Inter Milan vs Barcelona football match on April 20, 2010 at San Siro stadium in Milan. Inter Milan's won 3-1 AFP PHOTO
Roundly jeered by the home support, he reacted by throwing his shirt to the ground at the end of the match and gesticulating to the crowd.
Inter defender Marco Materazzi was reported to have confronted Balotelli about his behaviour in the tunnel, while coach Jose Mourinho and several team-mates were united in their condemnation of his actions.
Balotelli has failed to hold down a starting place in recent months due to the January arrival of Macedonian forward Goran Pandev and his frosty relationship with Mourinho.
He had already apologised for his behaviour at the start of April after being sidelined for five matches by Mourinho over disciplinary issues.