MADRID, April 28, 2011 (AFP) - Barcelona may make a formal complaint to UEFA over accusations by Real Madrid coach Jose Mourinho that referees always favour Barca after his club lost 2-0 in the Champions league semi-final first leg.
A late brace from Lionel Messi on Wednesday helped the Catalan giants put one leg in the Wembley final but there were sour grapes as Mourinho, who was sent to the stands at the Bernabeu stadium, vented his fury at the straight red card for Portuguese centre-back Pepe.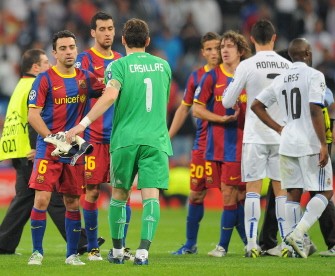 AFP - Real Madrid's players congratulate Barcelona's players after the game
"In the post match press conference, Jose Mourinho severely criticised the referee Herr (Wolfgang) Stark and insinuated that UEFA treated Barca favourably," the club said in a statement on Thursday.
"The club's legal department is now studying whether to take his remarks to the UEFA disciplinary commission."
UEFA said it is waiting for report from the referee and its representatives at the match.
"What will the charges be? Will the comments of Jose Mourinho be included or not? We probably won't know any more until this (Thursday) afternoon," a UEFA spokesman told AFP.
Mourinho charged Pepe's red card, for a tackle on Dani Alves, was another example of favouritism for Barca.
"Chelsea couldn't get to the final three years ago (in the 2009 semi-final) against Barcelona," said the Portuguese coach, who by that stage had left the London club for Inter Milan.
"Against Inter Milan last year we played with ten men against Barcelona (Inter still went on to eliminate them and win the trophy beating Bayern Munich) and once again this year we played with ten men," bemoaned Mourinho.
"It shouldn't have been a red card for Pepe. Maybe someone can give me an answer. A foul on a Barcelona player and miraculously a red card.
"I don't know if Barcelona are friendly or not. They are a great team so congratulations to them but they have this power. Pepe sent off and me too. I don't know why.
"Why? Why does a fantastic team need this. (Anders) Frisk (the referee for the 2009 semi-final between Barcelona and Chelsea), Stark. Why? Why? Football is equal for everyone. The team that deserves to win, should win.
"If they won by merit we would accept it. Why in a balanced game like tonight did it happen? Why? Why did they leave us with ten men? Why did they turn down four penalties against Chelsea in the semi-final a few years ago? I hope one day I will have an answer. I always try to be honest. I just want to know why."
"I don't know if it's the UNICEF (Barca's sponsor) publicity or the friendship of (Spanish football federation chief Angel) Villar at UEFA, where he is vice president, I don't know if it's because they are so nice, but they have got great power. The rest of us have no chance."
Asked on his team's chances of overturning the result in the second leg at Camp Nou on May 3 Mourinho replied: "Obviously it is a difficult mission in Barcelona. Yes, I think we are eliminated. We will go with everything to get a result for our fans but I can't see it."
Madrid have not reached the final since 2002 and had fallen at the first knockout stage in six successive seasons prior to Mourinho's arrival.
A war of words before the game had seen Guardiola lash out at Mourinho for calling him 'Pep' and using the informal 'tu' form but the Portuguese coach said the mind games had not played a role in the result and said he respected Guardiola.
"He is a fantastic person. I knew him for four years at Barcelona and I respect him as a coach. However, I would be embarrassed to win the Champions League like this."
Guardiola was asked about Mourinho's comments in his press conference and simply replied: "I don't want to say anything about that. No comment.
"We are one step away from the final but we are not at Wembley yet and a club with nine European Cups (Real Madrid) never gives up.