BARCELONA, April 29, 2010 (AFP) - Inter Milan ended Barcelona's reign as European champions on Wednesday, but their semi-final victory was dismissed as an ugly bodyblow to the soul of the 'beautiful game'.
"Inter stayed at the back and defended and the result is sad for the fans and the team," said Barcelona midfielder Yaya Toure, one of the loudest critics of the dogged, unfussy Italian style.
"We couldn't do anything with the way the opposition played and the referee didn't help us. We knew what we wanted to do but luck was not with us."
Despite boasting the talents of Lionel Messi, Barcelona failed to break down an Italian wall of defiance, made even more resolute by the red-card handed out to Thiago Motta after half an hour.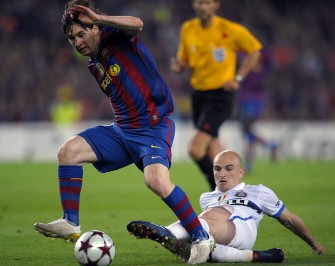 Barcelona's Argentinian forward Lionel Messi (L) vies with Inter Milan's Dutch midfielder Wesley Sneijder (R) during the UEFA Champions League semi-final second leg football match Barcelona vs Inter Milan on April 28, 2010. AFP PHOTO
Inter Milan, whose last European title was in 1965 and whose last appearance in the final was in 1972, were inspired by coach Jose Mourinho and their 1-0 defeat on Wednesday was not enough to cancel out their 3-1 advantage from the first leg of their semi-final.
Their reward is a May 22 final date against Bayern Munich in Madrid.
"When a team defends like Inter you have to open up the pitch and try to take advantage of the middle, but we were not able to link-up well and one-against-one it always led to a foul," said Guardiola.
"When nine players defend it is difficult to overcome them, (Diego) Milito and (Samuel) Eto'o played almost like full-backs, but whoever wins always has reason and you have to give it to them."
Mourinho, who sprinted onto the Nou Camp pitch at the final whistle to absorb the praise of the small contingent of Inter fans squeezed into a ground dominated by 90,000 Barca supporters, defended his tactics.
"The game started badly for us because we had to play (Cristian) Chivu ahead of (Goran) Pandev (who picked up a knock in the warm-up) and we are used to having three forwards in Europe," said the former Barca assistant coach.
"It meant we had to be more defensive. It was an exceptional display and the best defeat of my life, although the players deserved a draw because their defending was spectacular.
"Barcelona were very offensive in their play and if we had not been organised then we would have been eliminated. It is always difficult to play with ten but against Barcelona it is almost impossible.
"I didn't want possession of the ball. In the first leg we played nearer to their area and here all we wanted to do was to defend."