MUNICH, Germany, April 20, 2010 (AFP) - Bayern Munich closed ranks around Franck Ribery on Tuesday after an under-age call-girl scandal that exploded around the French midfielder on the eve of the Champions League semi-final against Lyon.
"This is, of course, an issue for us," said Bayern's director of sport Christian Nerlinger with his team set to face Lyon in Wednesday's last four first leg tie at Munich's Allianz Arena.
"But for the time being, we have to concentrate on the football, including Franck."
According to a French judicial official, the 27-year-old Ribery could face charges over alleged relations with an under-age girl after French police quizzed him as part of investigations into prostitution at a Paris nightclub.
Ribery trained with Bayern on Tuesday for the first time since the scandal broke on Sunday and he is expected to face Lyon on Wednesday, having been spoken to about the issue by Munich's bosses on Monday.
If charged and found guilty Ribery, who is married with two daughters, could face a maximum sentence of three years in prison and a fine of 45,000 euros (60,000 dollars).
Both of his team-mates Philipp Lahm and Daniel van Buyten were staying tight-lipped in Tuesday's pre-match press conference and admitted the club had instructed them to say as little as possible about the scandal.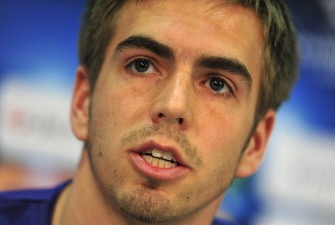 Bayern Munich's defender Philipp Lahm addresses a press conference at the Allianz Arena in Munich April 20, 2010, ahead of the Bayern Munich vs Olympique Lyonnais Champions League semi-final football match. AFP PHOTO
"Franck trained very well, is really motivated and happy to be able to play," said van Buyten.
"In this important phase, it is important to concentrate completely on the game.
"He can think more clearly about the future after the match."
Ribery has a contract at Munich until June 2011 and he has said a decision about whether he will stay with Bayern is expected to be made soon, with Real Madrid and Barcelona both chasing his signature.
But Nerlinger said there is no sign of a decision being made by Ribery in the near future.
And Bayern chairman Karl-Heinz Rummenigge said he has heard nothing: "It's all quiet on the Ribery front" he said when asked about a possible transfer.
With head coach Louis van Gaal back in his native Holland due to a bereavement, assistant coach Andries Jonker took training on Tuesday and said Ribery was in contention to be selected.
"Franck Ribery has done well in training and it looks like he may be part of our team for Wednesday," he said.