Bayern Munich, one of the top football clubs in the world, is carrying its plans to build its images in Viet Nam via cooperation with the Viet Nam Football Federation (VFF), said the German club's head of international affairs, Mr. Martin Haegele.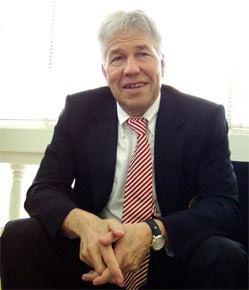 Mr. Martin Haegele in Ho Chi Minh City (Photo: Tuong Thuy)
He told the Sai Gon Giai Phong newspaper on April 27, 2006 in Ho Chi Minh City that he discussed cooperation issues with VFF officials in Ha Noi the day before.
"We want to cooperate with VFF in many fields like football training, helping developing football in Viet Nam as well as expanding our images," he said.
"We have invited VFF to visit Bayern Munich this June, just before the World Cup. We will further discuss about our cooperation plans."
He said the two sides plan to organize a friendly between a team of former Bayern Munich players, including former star Lothar Mathaeus, and a Vietnamese team this autumn to help Viet Nam prepare better for the 15th Asian Games late this year. Then, in June 2007, Bayern Munich's A team would play with Viet Nam during their Asian tour.
The Viet Nam Football Federation considers it a good chance for the national team to prepare for the Asian Cup, in which Viet Nam will compete for the first time.
Mr. Haegele said he expected cooperation between his club, which is now leading the German league Bungdesliga, and the Viet Nam Football Federation would result in good fruits for both sides. 
Links