BERLIN, March 8, 2011 (AFP) - Bayern Munich were casting around for a new coach Tuesday after the German giants agreed to part company with Louis van Gaal towards the end of what, by their high standards, has been a poor season.
Those reported to be in the frame include Turkey coach and former Chelsea manager Guus Hiddink, previous Ajax, Hamburg and Tottenham boss Martin Jol and the veteran Champions League winning coach Jupp Heynckes, currently at Bayer Leverkusen.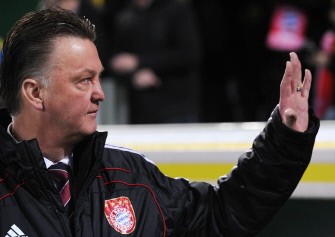 AFP file picture taken on January 26, 2011 shows Bayern Munich's Dutch head coach Louis van Gaal waving prior to the German Cup quarter-final football match of Alemannia Aachen against FC Bayern Munich in Aachen, western Germany.
After three defeats in a row and Champions League qualification looking increasingly unlikely, Bayern said on Monday that Van Gaal would be leaving at the end of the season, one year before his contract was due to expire.
The reason, the club said in a terse statement, was "differing views on the club's strategic direction."
It stopped short of thanking the 59-year-old Dutchman for his services, scant reward given he had delivered the league and cup double last season.
He might be shown the door sooner if Bayern fail in the next few games including against Hamburg and Freiburg in the Bundesliga and in next Tuesday's Champions League round-of-16 second leg clash with Inter Milan, reports said.
Bayern Munich said Van Gaal had agreed that all efforts would go towards meeting certain "minimum targets."
Following successful spells at Barcelona and Ajax - where he coached a vibrant young side to the 1995 Champions League - Van Gaal was recruited from Dutch side AZ Alkmaar in 2009.
After a slow start, it was all smiles as Van Gaal took the German giants to a 22nd league title, their 15th Cup and a Champions League final, where they lost 2-0 to a Jose Mourinho-inspired Inter Milan.
But lately a gloom has descended on the Allianz Arena.
Although they are fifth in the Bundesliga and still in the Champions League, Bayern Munich's bosses -- who held five hours of crisis talks on Sunday -- are used to being the best.
In the Bundesliga it has been the young guns of Borussia Dortmund, coached by Jurgen Klopp, who have been the runaway success story, sitting pretty at the top of the table with a near-unassailable 12-point lead.
Bayern are 19 points adrift of Dortmund, with Bayer Leverkusen, Hanover and Mainz ahead of them in the table. They need to be first or second to qualify automatically for the Champions League.
The German Cup won't be returning to Bayern, either, with Schalke having dumped them out in the semi-finals last week, four days after Dortmund thrashed them 3-1, ramming home their superiority over the defending champions.
The final nail in Van Gaal's coffin though was Saturday's richly deserved 3-1 drubbing at the hands of Hanover in a match described beforehand by captain Philipp Lahm as Bayern's "most important match of the whole season."
Chairman Karl-Heinz Rummenigge called the manner of defeat the "low point" of the current Bundesliga campaign.
"Of course we know, looking at the Bundesliga table, that it will be very hard to qualify for the Champions League next season, but we are going to give it our all," Rummenigge said Monday.
Reports said negotiations had already been opened with Hiddink and Jol, as well as with Matthias Sammer, currently director of sport at the German Football Federation.
The Bild daily, often in the know, tipped Heynckes to get the job, giving the 65-year-old his third spell at Munich after stints there from 1987 to 1991 and in 2009. He has also coached Real Madrid and Schalke, amongst others.
With a characteristic lack of modesty and an undertone of spite, Van Gaal himself said in late 2010 that his were not easy shoes to fill.
"There are not many who have my experience and track record," he said.
"(Manchester United's Sir Alex) Ferguson, Mourinho and (England boss Fabio) Capello maybe, but they need to be able to speak German and Capello still can't speak English."