MUNICH, Germany, Aug 18, 2011 (AFP) - Bayern Munich coach Jupp Heynckes has called on his team to finish their chances after the Bavarian giants beat Swiss side FC Zurich 2-0 in their Champions League qualification play-off, first-leg.
The teams meet again in Tuesday's second-leg at Zurich's Letzigrund Stadium with the Germans enjoying a commanding lead, but Heynckes' star-studded team wasted four clear second-half chances on Wednesday at Munich's Allianz Arena.
An early goal from vice-captain Bastian Schweinstieger calmed the hosts' nerves before a superb individual goal from Dutch winger Arjen Robben sealed the win.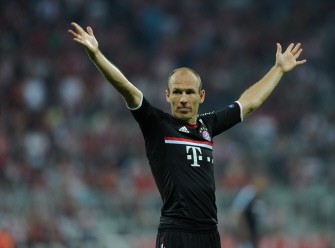 Bayern Munich's Dutch midfielder Arjen Robben celebrates scoring during the game
But Heynckes knows his side should have won by much more having dominated their Swiss rivals and created a string of chances, many of which went begging.
In the second-half alone, Bayern striker Mario Gomez twice fired wide while French star Franck Ribery hit the post with a well-struck free kick and captain Philipp Lahm also had a shot saved by Zurich goalkeeper Johnny Leoni.
"When we saw how many goal chances we had, our finishing is something we need to work on," admitted Heynckes.
"Arjen scored a great goal, he was very clever in the way he played, but he is not quite 100 percent, just like Ribery who is also coming back after a long injury lay-off.
"We need to use our chances in the return leg."
But there was a fair amount of relief after Wednesday's victory with Bayern desperate to take their place in the group stages which start next month.
"The players knew how important this game was for us," said Heynckes.
"We started well in the first 20 minutes and created some good chances, but we have to raise our tempo against a team like that."
And despite creating the first goal and scoring the second, Robben says there is plenty of room for improvement ahead of the second leg.
"The result is OK, but we have to concentrate more, be more aggressive and play faster," said the Dutchman.
Zurich coach Urs Fischer acknowledged his side face a tough task in next week's second leg, but are looking forward to hosting Bayern.
"I think the quality of Bayern was obvious tonight," said Fischer.
"They have a super team, but we still have it all to play for back at home next week."