BERLIN, April 11, 2011 (AFP) - Bayern Munich president Uli Hoeness took a parting swipe at coach Louis van Gaal, who was sacked on Sunday, describing the Dutchman as a killjoy who had alienated his players.
The 59-year-old Van Gaal was fired in the wake of his side's 1-1 draw at Nuremberg on Saturday which left the Bavarian giants fourth in the table and outside the Champions League places for next season.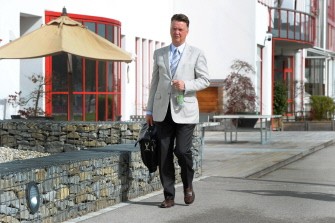 Bayern Munich's former head coach Louis van Gaal leaves the team trainings area in Munich, southern German, on April 11, 2011. AFP
Hoeness first voiced criticism of Van Gaal last October when he said the Dutchman was hard to work with and the Bayern boss did not waste the chance to put the boot into the departing coach.
"Success is one thing, fun another, but there has been no fun at this club for a long time, not amongst us (the board) and not with the players," said Hoeness in a press conference on Sunday.
"The idea they were behind the coach is already a fairytale."
Hoeness pin-pointed the incident which alienated the board, when Van Gaal decided to bring in experienced goalkeeper Thomas Kraft in January for ex-Germany international Hans-Joerg Butt.
"The whole crap started after the decision to replace Hans-Joerg in goal," said Hoeness.
"The board repeatedly advised Louis van Gaal against doing that, but he went ahead regardless.
"He didn't learn anything from this subject.
"That led to complete unrest in the whole defence."
Bayern face second-placed Bayer Leverkusen at Munich's Allianz Arena this Saturday and defeat would almost certainly see them miss out on a guaranteed Champions League place next season.
Hoeness expects a instant reaction from the team with Van Gaal's assistant Andries Jonker in charge until the end of the season and Bayer Leverkusen coach Jupp Heynckes set to take over as head coach for next season.
"I expect the players to come out fighting," he said.
"They have been put in a straitjacket for a months and if you had watched them for the last few weeks, there had been pure fear behind their actions.
"I assumed that will all end immediately."
After 40 years at the club as player, general manager and now president, Hoeness is on rocky ground with Bayern fans for lending financial support to bankruptcy-threatened neighbours Munich 1860.
Fans are also disgruntled that Germany goalkeeper Manuel Neuer is set to join Bayern for next season in a move heavily influenced by Hoeness.
The hardcore fans on the Munich stadium's south curve protested against Hoeness during recent home games, but the president refused to acknowledge any blame for their disgruntlement.
"You'd need to ask the fans about that," he said.