LONDON, Jan 24, 2010 (AFP) - Simon Grayson, the Leeds United manager, believes Jermaine Beckford now has a pick of Premier League clubs to join at the end of the season.
The 26-year-old forward scored both his side's goals in a 2-2 FA Cup fourth round draw at Tottenham Hotspur, including a penalty equaliser six minutes into stoppage time.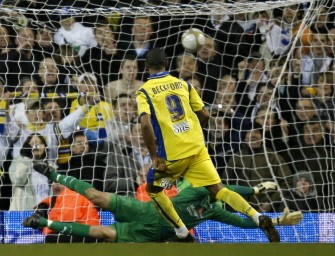 Leeds United's English striker Jermaine Beckford scores his late second goal from the penalty spot past Tottenham's Brazilian goalkeeper Heurelho Gomes during the FA Cup fourth round football match between Tottenham Hotspur and Leeds United at White Hart Lane on January 23, 2010. AFP PHOTO
The League One side, who beat Manchester United 1-0 at Old Trafford in the third round thanks to a Beckford goal, will have the opportunity to try for another Premier League scalp via an Elland Road replay next month.
Beckford handed in a transfer request after the Manchester United victory but subsequently withdrew it and it is Grayson's understanding that the player will remain with Leeds until the summer, when he will then become a free agent.
Everton are understood to be interested in signing him then.
Grayson said: "I have said all along I would rather Jermaine leave on a free and wish him well rather than sell him now because hopefully in that meantime he's got us promoted.
"Jermaine can only win because if he scores 15 to 20 goals until the end of the season he will be linked with bigger clubs than he's being linked with now."
Newcastle United have had bids turned down this month and Grayson was not inviting any other offers.
"It would have to be a lot of money because we have turned down decent money already for him," he said. "Jermaine wants to stay and finish the job off. If someone comes in with ridiculous money - and I'm talking a lot more than two million (pounds - 3.2 million dollars) then we'd look at it again.
"But I've got no intention of selling him in the window because it's too late to get a replacement and he's too valuable to lose."
Leeds also had goalkeeper Caspar Ankergren to thank for a string of saves, especially in the first half. The most important was from Jermain Defoe's ninth-minute penalty and the England striker will now be taken off spot-kick duties.
Tottenham manager Harry Redknapp explained: "He has had two penalties now and he hasn't scored so we will probably look elsewhere now."
Redknapp was more annoyed with his defenders for surrendering possession in stoppage time when substitute Roman Pavlyuchenko's 75th-minute strike had appeared to have been enough for a home win.
"We should have just kept the ball," he complained. "That's all we had to do and we would have won the game. We should have made sure there was no coming back for them from that position."
Instead, Gareth Bale, the Wales left-back, launched the ball upfield and Leeds replied with an attack that saw Michael Dawson bring Beckford down in the box.
Redknapp had no complaints about referee Alan Wiley's decision. "It was a tight one," he said. "But I wouldn't argue with the referee. He's made an honest decision. Sometimes you get them and sometimes you don't."
Peter Crouch had given Tottenham the lead three minutes before half-time, with Beckford making it 1-1 in the 52nd minute in a goalmouth scramble that followed a corner.