LONDON, Jan 4, 2011 (AFP) - Tottenham Hotspur manager Harry Redknapp believes his team's position in the English Premier League title race has been strengthened following three wins in as many matches at the end of 2010.
Spurs were not at their best against Aston Villa, Newcastle or Fulham but still earned maximum points to start the new year in the top four, ahead of champions Chelsea.
Next is a trip to Goodison Park to face Everton, with excitement at the club growing due to the possibility of former England captain David Beckham arriving from Los Angeles Galaxy on loan until March.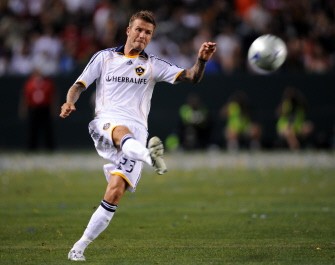 AFP files - Los Angeles Galaxy midfielder David Beckham
Redknapp felt Beckham, despite being 35 years old, could contribute in the same way William Gallas has this season following his free transfer.
"I just get feelings for people," Redknapp said. "I brought William Gallas here and everybody said 'you're mad, what are you bringing him here for?' But how good has he been? What a player.
"I took Kanu to (Portsmouth) six years ago. People who are supposed to know said 'he's finished, he's had it,' and he's still playing there now. He scored in the semi-final and the final of the FA Cup for me."
Redknapp is still telling his players to believe Tottenham can win a first English title since 1961 and Spurs defender Michael Dawson said the squad could do just that.
"Without a shadow of a doubt. Why not? We've got every chance.
"There are lots of teams in it this year, Manchester City got another win and Manchester United got the win at West Brom, so it's open.
"There are maybe five of us who can win the title, but we are concentrating game by game and we've got Everton now.
"Hopefully, we'll get another three points. We'll take it game by game and see where it takes us."
While Tottenham have been linked with a move for Beckham, Everton's spending during the January transfer window is likely to be far less high-profile.
Everton manager David Moyes is desperate for a new striker to bolster his struggling attack as he will be without top scorer Tim Cahill, who has joined up with Australia ahead of the Asian Cup.
After Cahill's nine Premier League goals, Moyes's next highest scorer is Mikel Arteta with three while Jermaine Beckford, Yakubu and Louis Saha have contributed just three between them.
The Toffees drew a blank during a 2-0 defeat by Stoke last time out and Moyes, linked with a loan deal for Manchester United's Federico Macheda and City's Roque Santa Cruz, admitted he was looking for new players.
But the Scot did not expect any imminent arrivals at Goodison Park.
"You could ask me about lots of people and I would say 'well maybe' but in truth I don't know at the moment," Moyes said.
"We will try and look around and see what we can get. We've got to look to see who's available on loan.
"There might be a lot of deals done, but they might not be done in the first week of January."