LIVERPOOL, England, April 12, 2010 (AFP) - Rafael Benitez admits Liverpool's hopes of qualifying for the Champions League are virtually over after Fulham held the Reds to a 0-0 draw at Anfield.
Roy Hodgson's Fulham battled brilliantly for a draw, inspired by goalkeeper Australian goalkeeper Mark Schwarzer, who pulled off a series of outstanding saves to effectively end Liverpool's top-four hopes.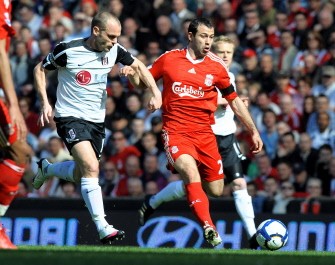 Fulham's Danny Murphy (L) vies with Liverpool's Argentinian midfielder Javier Mascherano (R) during the English Premier League football match between Liverpool and Fulham on April 11, 2010. AFP PHOTO
The result left Liverpool six points behind Manchester City, the current holders of the final Champions League qualifying position, and Roberto Mancini's side also have a game in hand.
That was enough to force Benitez to concede that Liverpool will almost certainly miss out on a place in Europe's elite club competition.
I'm disappointed because we had plenty of possession and some good chances and we could have won 1-0 or 2-0 but we couldn't score," he said.
"The next question will be about fourth place and it will be very difficult. It is not in our hands, it will depend on the other teams.
"The difference is a bit too much now maybe. I think it will be very, very difficult so we have to be realistic.
"As a manager you have to believe and support your team."
To compound matters for Liverpool, they could be without Fernando Torres for the rest of the season after he missed this match with a knee injury.
The Spain striker, who has 22 goals this season, needs to visit specialists for assessment and Benitez admitted he is in the dark as to how serious the problem is.
The build up to Sunday's game was overshadowed by the speculation that Martin Broughton, the British Airways chairman, is about to be drafted into the Anfield boardroom in an attempt to help co-owners Tom Hicks and George Gillett sell the debt-ridden club.
But Benitez claimed he doesn't know what is happening behind the scenes.
"I don't have too much information at the moment because I was just concentrating on the game," he added.
"You maybe know more than me. I was just preparing for the game and I wasn't involved in any conversations."
In terms of possession, Liverpool dominated against their fellow Europa League semi-finalists but they did precious little with the ball.
They were also unfortunate to be facing an inspired goalkeeper in the shape of Schwarzer who simply refused to be beaten from the first minute to the last.
In the first half he clawed away a Javier Mascherano long-range blast and also bravely denied Maxi Rodriguez before following that up after the break, blocking further good efforts from Alberto Aquliani and Ryan Babel.
"Schwarzer did a fantastic job for us," Hodgson said. "I think he was underrated at Middlesbrough but since he came to Fulham, I wouldn't say he was underrated, I would say he has had quite a lot of recognition for his performances."
And Hodgson was not shy in praising the rest of his side as well, as they took everything Liverpool could throw at them to battle for a point.
He added: "It was a sterling defensive performance against a very good Liverpool team.
"There is no doubt that Liverpool dominated the game and we were on the backfoot but at the same time, we stood our corner well and worked hard to stop them.
"It was another excellent clean sheet - to get a clean sheet at Anfield means I have to be very satisfied with what the team has done."